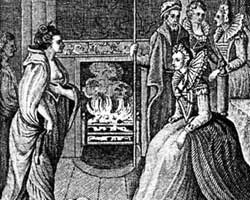 The O'Malleys and the Pirate Queen of Connacht
There are many famous O'Malleys, but the first famous O'Malley was Grace the Pirate Queen. Born about 1530, Grace ( Gráinne Ní Mháill in Irish) inherited a fortune from her father, mother, and first husband, Dónal an Chogaidh (Dónal "the warlike") Ó Flaithbheartaigh.
Although quite literally a pirate whose sailors would board other ships demanding cash or cargo in exchange for safe passage, O'Malley also earned a legacy of daring exploits, including capturing and killing the men who killed her lover Hugh de Lacy, and visiting Queen Elizabeth I to negotiate the release of her sons and half-brother who were taken captive by Sir Richard Bingham, the English governor of Connacht. O'Malley and Elizabeth reportedly parlayed in Latin, because O'Malley spoke no English.
Grace O'Malley inspired songs, albums, plays, a dance drama, movies, television shows, comic books, and several books. Perhaps most enduringly, her story inspired is a subplot in James Joyce's Finnegan's Wake.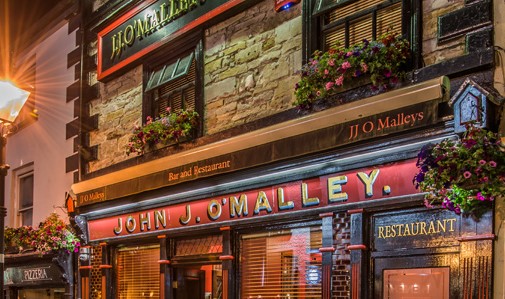 O'Malleys who are researching their family histories can read more about their name on the O'Malley Name History page. They will find O'Malley origins are usually in County Mayo, which is where they can visit Westport House, built near the site of an original O'Malley castle. The estate is open to tourists who can see an exhibition on Grace O'Malley and a bronze statue of the pirate queen of Connacht.
When in Mayo, lift a pint at JJ O'Malley's and toast the O'Malleys both near and far!
The Irish Rose. To nourish, cultivate, and preserve our Irish culture. Authentic Irish gifts and Irish coat of arms. Irish flags, Irish glassware, and Irish family coat of arms gifts.