O'Malley Name History
O'Malley Irish Coat of Arms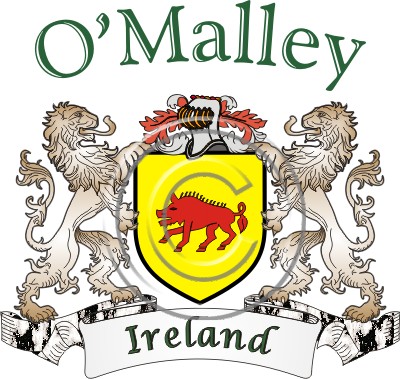 O'Malley is a surname of Irish origin. O'Malley is an anglicisation of Ó Máille, which means a descendant of a follower of St John. O'Malley is most often associated with Ireland's County Mayo.
Variant Spellings of the Irish surname O'Malley include O'Mallay, O'Mally, O'Mailley, O'Mealey, and many more. The O'Malley clan is often associated with sailors and the clan motto is, "Terra Marique Potens," which is Latin for, "Powerful on Land and Sea."
More O'Malley coat of arms information
Other coat of arms products we carry provide more information about the O'Malley coat of arms and family name history.
Browse a wide selection of O'Malley coat of arms products at The Irish Rose. Visit our Irish Coat of Arms page for great gift ideas.
Find an Irish O'Malley Pub
There is a pub with the O'Malley name on it in Westport, County Mayo. The John J. O'Malley Bar and Restaurant (called JJ O'Malleys) features full dining and live music.
Notable people named O'Malley
Bryan Lee O'Malley (born 1979), comic book creator
Catherine Curran O'Malley (born 1962), Maryland state judge
Cathi O'Malley (born 1981), American model
Daragh O'Malley (born 1954), Irish actor
Desmond O'Malley (born 1939), Irish Fianna Fáil politician
Donogh O'Malley (1921-–1968), Irish Fianna Fáil politician
Edward R. O'Malley (1863–-1935), American lawyer and politician
Edwin O'Malley (1881-–1955), Commissioner of Public Markets for New York City
Ernie O'Malley (1897-–1957), Irish Republican Army officer
Fiona O'Malley (born 1968), Irish Progressive Democrat politician
George O'Malley (musician), American musician
Grace O'Malley (c.1530-–c.1603), Irish noblewoman and chieftainess
J. Pat O'Malley (1904-–1985), English singer and actor
King O'Malley (1858-–1953), Australian politician
Liam O'Malley, gaelic football player
Mr. O'Malley, fictional character
Martin J. O'Malley (born 1963), American politician and current Governor of Maryland
Martin O'Malley (journalist) (born 1939), Canadian journalist
Mary O'Malley (1918–-2006), Irish playwright
Mary O'Malley (poet) (born 1954), Irish poet
Matthew V. O'Malley (1878-–1931), American politician
Mike O'Malley (born 1969), American actor
Nick O'Malley (born 1985), indie-rock musician
Sir Owen O'Malley (1887-–1974), British diplomat
Patrick O'Malley or Pat O'Malley, various including
Patrick O'Malley (American politician) (born 1950), former Illinois State Senator
Patrick O'Malley (Irish politician) (born 1943), Irish Progressive Democrats politician
Padraig O'Malley (born 1942), Irish-American academic
Peter O'Malley (born 1937), former owner of the Los Angeles Dodgers baseball team
Robert E. O'Malley (born 1943), Medal of Honor recipient
Sean O'Malley (born 1944), Roman Catholic Cardinal
Stephen O'Malley (born 1974), American musician
Thomas J. O'Malley (1868-–1936), Lieutenant Governor of Wisconsin
Thomas O'Malley (congressman) (1903–-1979), U.S. Representative from Wisconsin
Tim O'Malley (born 1944), Irish politician
Tony O'Malley (1913-–2003), Irish painter
Walter O'Malley (1903-–1979), former owner of the Brooklyn/Los Angeles Dodgers baseball team
William O'Malley (Jesuit) (born 1928), American Jesuit priest, teacher, and author
William O'Malley (Irish politician) (1853–-1939), MP for Connemara, 1906