The glass with hips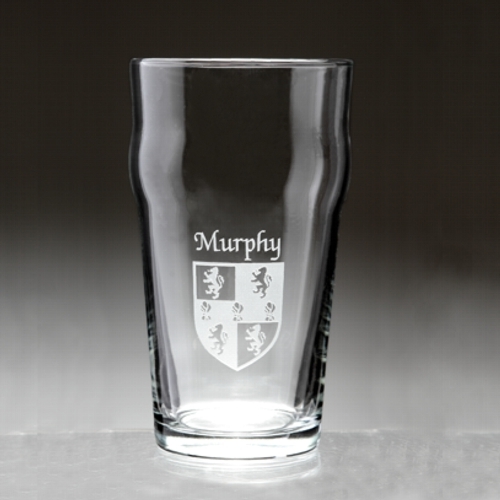 Spotlight on the Nonic Pint, Imperial Pint, or Pub Glass
We sell a lot of glasses at The Irish Rose, so we think it's important to know something about them besides how much beer they can hold (although that's very important, too!)
Today, we put a spotlight on the Pub Glass. Sometimes called an Imperial Pint Glass or a Nonic Pint Glass, it features a soft ridge or "hips" about a third of the way down. At 20 ounces, the Pub Glass holds the same amount of liquid as any pint glass, but pub owners and homeowners alike appreciate the extra traction that the bump gives it, helping to prevent slips and spills. It's also a nicely stackable glass.
Men's Journal consider nonic glasses to be a good choice for most kinds of English and Irish beers like bitters, brown ales, porters, and stouts, as well as American pale ales, IPAs, amber ales, and brown ales.
We use a laser-etching process to permanently engrave Irish coats of arms and surnames on each glass, which makes the Pub Glass an especially nice gift for craft beer fans on your gift list. See more glassware and barware on The Irish Rose.
The Irish Rose. To nourish, cultivate, and preserve our Irish culture. Authentic Irish gifts and Irish coat of arms. Irish flags, Irish glassware, and Irish family coat of arms gifts.