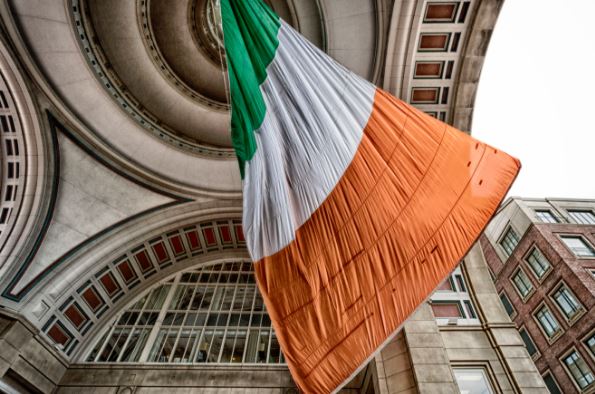 Facts about the Irish flag
"Clasped in Generous and Heroic Brotherhood"
The Irish flag is a cherished symbol of the Republic of Ireland. We found some interesting facts about the Irish flag that you may not know:
The flag was first flown in public by

Thomas Francis Meagher

, who had a truly amazing life. Meagher was part of the Rebellion of 1848 in Ireland and was transported to Australia after his conviction for sedition. He escaped, made his way to New York City, served to the rank of Brigadier General during the Civil War, and eventually become acting Governor of the Montana territory.
The colors of the flag symbolize a truce between the Irish Protestants and the Irish Catholics. As Meagher said, ". . . I trust that beneath its folds, the hands of the Irish Protestant and the Irish Catholic may be clasped in generous and heroic brotherhood…"
Why orange? The orange color represents the British supporters of

William of Orange

(William III of England) who settled in Northern Ireland in the 17th century (most of whom are Protestant).
The tricolor flag was not recognized as Ireland's national flag until 1937.
'Flag of Ireland' in Irish is, bratach na hÉireann.
On the first day of the

Easter Rising

, on Monday, April 24th 1916, the Irish Republican Brotherhood, the Irish Volunteers, and the Irish Citizen Army flew the Irish flag from the top of the General Post Office (called the GPO) in Dublin.