Murphy Name History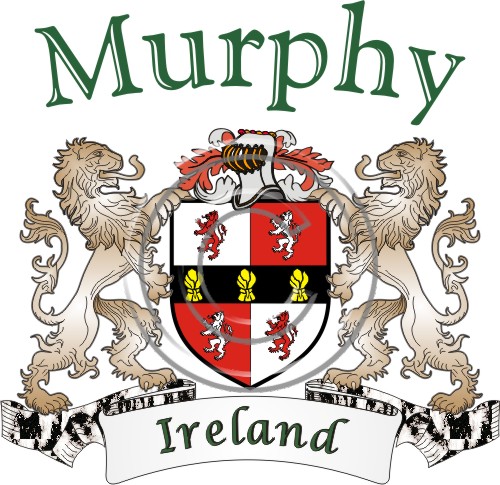 Our item #1760 Framed Irish Family Name History has more information on the Murphy surname.
Fun Facts about Murphy
There's the "Murphy Bed," that ingenious design to store a bed into a wall to conserve space. Or Patrick Murphy, who was born in 1832 in County Down and was the tallest man in Europe, standing 8 feet 1 inch.
Murphy's Law
And let's not forget about "Murphy's Law." Here's the story on how Murphy's Law entered the English language.
Born in 1917, Edward A. Murphy, Jr. was one of the engineers on the rocket-sled experiments that were done by the United States Air Force in 1949 to test human acceleration tolerances (USAF project MX981). One experiment involved a set of 16 accelerometers mounted to different parts of the subject's body. There were two ways each sensor could be glued to its mount. Of course, somebody managed to install all 16 the wrong way around. Murphy then made the original form of his pronouncement, which the test subject, Major John Paul Stapp, quoted at a news conference a few days later. Within months, 'Murphy's Law' had spread to various technical cultures connected to aerospace engineering, and finally reached the Webster's dictionary in 1958. Tragically (and perhaps typically), the popular cliche we call 'Murphy's Law' was never uttered by Edward Murphy. The original pronouncement was, If there are two or more ways to do something, and one of those ways can result in a catastrophe, then someone will do it.
Gifts for the Murphys in your life
The Irish Rose has a large selection of Murphy coat of arms items. We feature Murphy heraldry on popular gift items like the Ireland Coat of Arms Flag and the Irish Coat of Arms Pint Glass. Any of our coat of arm items would make a lovely wedding, engagement, anniversary, or reunion gift. Visit our Coat of Arms page to see all the products featuring the authentic Irish Murphy coat of arms.
Visit one of the many Murphy's Pubs in Ireland
We had no trouble coming up with a list of Murphy Pubs to visit in Ireland. If you're a Murphy, make sure to drop by one of these fine establishments.
Murphy's Bar Killarney, in Killarney, County Kerry
Murphy's Bar in Blessington, County Wicklow
Murphy's Bar in Galway, County Galway
Murphy's Bar Downpatrick, County Down
JC Murphy's in Macroom, County Cork
Ma Murphy's Bar in Bantry, County Cork
Murphy's Bar in Mayo, County Mayo
Murphy's Bar Boolteens in Castlemaine, County Kerry
Murphy's Hotel Tinahely in County Wicklow
Murphy's Kilanerin in Gorey, County Wexford
Murphy's of Leixlip in Dublin, County Dublin
Murphy's Bar Brandon in Brandon, County Kerry
Batt Murphy's Bar in Midleton, County Cork
Murphy's Pub Rathmines in Dublin, County Dublin
Johnny Murphy's Slieve Gullion in Newry, County Armagh and County Down
Murphys Bar Of Dungarvan in Waterford, County Waterford
and many more!
If you can't visit a Murphy's Pub in person, our personalized pub gifts are the next best thing!
Notable Murphys
A
Alex Murphy (rugby league), English rugby league footballer
Anthony Murphy (footballer) (born 1982), Irish soccer player
Arthur Murphy, several people:
Arthur Murphy (1727-–1805), Irish actor and playwright
Arthur H. Murphy (1831-–1903), entrepreneur and political figure in Quebec, Canada
Arthur P. Murphy (1870-–1914), American Republican politician
Audie Murphy (1925–-1971), American war hero and actor
Austin J. Murphy (born 1927), Democratic Congressman from Pennsylvania
B
Barnes Murphy (born 1947), Famous Sligo Gaelic Footballer
Brian Murphy, several people:
Brian Murphy (actor) (born 1933), British actor most noted for his role as George Roper in the sitcom George and Mildred
Brian Murphy (Canadian politician), former mayor of Moncton in New Brunswick, Canada
Brian Murphy (cricketer) (born 1976), former captain of the Zimbabwean cricket team
Brian Murphy (dual player) (born 1952), former hurler and Gaelic footballer with Cork, Ireland
Brian Murphy (footballer) (born 1983), currently playing for Bohemian F.C.
Brian Murphy (politician) (born 1956), first to win independent race in his town
Brian Murphy (hurler) (born 1982), corner-back on the Cork, Ireland, senior hurling team
Brian Murphy (writer) (born 1959), religion editor for the Associated Press
Brittany Murphy (1977–2009), American actress
C
Calvin Murphy (born 1948), American retired basketball player
Carolyn Murphy (born 1975), American model
Charles Murphy, several people:
Charles Murphy (1880-–1958), Irish politician more commonly referred to as Cathal Ó Murchadha
Charles Murphy (architect) (1890–-1985), the Chicago based architect of C.F. Murphy Associates, later Murphy/Jahn Inc.
Charles Murphy (Canadian politician) (1862–1935)
Charles Francis Murphy (1858-–1924), American political figure
Charles Minthorn Murphy (1870–-1950), aka "Mile-a-Minute" Murphy, American cyclist
Charles Quinton Murphy (born 1959), American writer, actor, and stand-up comedian
Charles Terrence Murphy (politician) (born 1926), Canadian politician
Cillian Murphy (born 1976), Irish actor
Colin Murphy, several people:
Colin Murphy (comedian), Irish comedian
Colin Murphy (footballer), English football manager
Colin Murphy (ice hockey) (born 1980), Canadian ice-hockey player
Conor Murphy, Sinn Féin politician in Northern Ireland
D
Dale Murphy, several people:
Dale Murphy (born 1956), American retired baseball player
Dale D. Murphy, professor at Georgetown University
Daniel Murphy, several people
Danny Murphy, several people
Daryl Murphy, Irish professional football player
David Murphy, several people:
David Murphy (baseball) (born 1981), American
David Murphy (CIA), CIA's station chief in Berlin from 1959–1961
David Murphy (conductor), Welsh
David Murphy (footballer) (born 1984), English
David Lee Murphy (born 1959), American country music singer-songwriter
Dervla Murphy (born 1931), travel writer
Dick Murphy (born 1942), American retired Republican politician
Donald E. Murphy (born 1960), American Republican politician
Donna Murphy (born 1958), American Tony Award winning actress
Donnie Murphy, American Baseball Player
E
Eddie Murphy, several people:
Eddie Murphy (born 1961), American comedian and actor
Eddie Murphy (1891-–1969), American baseball player
Edgar Gardner Murphy (1869–1913), American clergyman and author
Edward Murphy, several people, most notably:
Major Edward A. Murphy, Jr. 1918–1990, American aerospace engineer linked with Murphy's Law
Elliott Murphy (born 1949), American singer/songwriter
Erin Murphy, several people:
Erin Murphy (born 1964), American actress
Erin Murphy, American poet
Erin Murphy (politician) (born 1960), Minnesota politician
Everett J. Murphy (1852–-1922), politician
F
Francis Murphy, several people:
Francis Murphy (bishop) (1795–1858), Australian bishop
Francis Murphy (evangelist) (1836–1907), American temperance evangelist
Francis P. Murphy (1877-–1958), Republican 73rd Governor of New Hampshire
Francis X. Murphy (1915-2002), Catholic theologian and chaplain
Frank Murphy, several people:
Frank Murphy (1890–-1949), former Justice of the United States Supreme Court
Frank Murphy (American football) (born 1977), former NFL player
Frank Murphy (rugby player) (born 1981), Irish professional rugby union player
B. Frank Murphy (1867–-1938), U.S. Representative from Ohio
G
George Murphy (1902-–1992, American dancer, actor, and Republican Senator
Gillian Murphy, principal dancer at American Ballet Theatre
H
Henry Murphy, several people:
Henry Murphy (1877–-1954), American architect
Henry Cruse Murphy (1810–1882), American politician from New York and U.S. minister to the Netherlands
I
Isaac Murphy, several people:
Isaac Murphy (1802–-1882), Republican Governor of Arkansas
Isaac Burns Murphy (1861-–1896), American Hall of Fame jockey
J
Jack Murphy, several people:
Jack Murphy (Irish Politician) (1920-–1984), Irish republican and independent politician
Jack Murphy (footballer) (born 1918), retired Australian Rules footballer
Jack Murphy (sportswriter) (1923-–1980), American sportswriter and brother of Bob Murphy
Jack M. Murphy (1925–-1984), Republican Lieutenant Governor of Idaho
Jack Roland Murphy (born 1938), aka Murph the Surf, American, convicted robber and murderer
James or Jimmy Murphy, several people:
James Murphy (electronic musician) (born 1970), American
James Murphy (musician) (born 1967), American heavy metal guitarist
James Murphy (soccer), retired American soccer player
James "Quick" Murphy (born 1959), retired Canadian football player
James A. Murphy III, District Attorney, Saratoga County, New York
James Anthony Murphy (1894-–1924), "Jimmy" Murphy, American racing driver
James J. Murphy (1898–-1962), a United States Representative from New York
James William Murphy (1858–-1927), a United States Representative from Wisconsin
Jimmy Murphy (cartoonist) (1891–-1965), cartoonist of Toots and Casper comic strip
Jimmy Murphy (footballer) (1910-–1989), Welsh football player and manager
Jimmy Murphy (musician), (1925–-1981), American Country musician
Jimmy Murphy (playwright) (born 1962), Irish playwright
John Murphy, several people:
John Murphy (Alabama) (1786-–1841), American Democratic Governor and Congressman from Alabama
John Murphy (announcer), American football announcer for the Buffalo Bills
John Murphy (Australian politician) (born 1950), member of the House of Representatives
John Murphy (Australian rules footballer) (born 1949), former champion player with the Fitzroy Football Club in the 1960s and 1970s
John Murphy (baseball infielder) (died 1949), aka Soldier Boy, a baseball infielder
John Murphy (baseball pitcher), a 19th century baseball pitcher
John Murphy (Canadian politician) (born 1937), member of the Canadian House of Commons from 1993–1997
John Murphy (composer) (born 1965), British composer of film scores
John Murphy (economist), financial market analyst
John Murphy (footballer) (born 1976), English striker for Chester City
John Murphy (musician) (born 1959), sometimes credited as "Jonh Murphy", Australian drummer and multi-instrument musician
John Murphy (playwright) (1929-–1998), Irish dramatist, author of The Country Boy.
John Murphy (swimmer) (born 1953), retired American Olympic gold medalist in swimming
Father John Murphy (1753-–1798), one of the leaders during the Irish Rebellion of 1798
John A. Murphy (born 1927), Irish historian and former independent Senator from Cork
John Alphonsus Murphy, American Medal of Honor recipient
John Benjamin Murphy (1857–-1916), American surgeon, president of the American Medical Association in 1911
John E. Murphy (1869–1941), United States Navy sailor and Medal of Honor recipient during the Spanish-American War
John Francis Murphy (1853–-1921), American landscape painter
John J. Murphy (born 1959), American Republican politician
John Michael Murphy, US Congressman from New York, implicated in Abscam
John W. Murphy (1902-–1962), American Democratic Congressman from Pennsylvania
John W. Murphy (Connecticut), former mayor of New Haven, Connecticut
Julie Murphy, American novelist
K
Kelly Murphy (born 1977), American author and illustrator
Kevin Murphy (actor) (born 1956), American actor, author and puppeteer
Kevin Murphy (American football) (born 1963), retired American football player
Kevin Murphy (screenwriter), American screenwriter, television producer, and composer
Kevin Murphy (swimmer) (born 1949), "King of the Channel" title holder for crossing the English Channel
Kevin M. Murphy, economist and professor at the University of Chicago
L
Lambert Murphy (1885–?), American tenor, sang at the Metropolitan Opera
Larry Murphy (born 1961), Canadian retired professional ice hockey player
Lionel Murphy (born 1922), Australian politician and jurist
M
Marc Murphy (born 1987), Australian rules footballer
Margaret Mary Healy Murphy (1833–1907), American Catholic nun
Mark Murphy (safety b. 1958) (born 1958), retired American football player
Mark Murphy (safety b. 1955) (born 1955), retired American football player, now President and CEO of the Green Bay Packers
Mark Murphy (singer) (born c. 1932), American jazz singer
Martin Murphy (1832–), Canadian civil engineer
Mary Murphy (actress) (born 1931), American actress
Mary Murphy, American choreographer
Mary Murphy (politician) (born 1940), American politician and member of the Minnesota House of Representatives
Mary Murphy (reporter) (born 1959), American reporter and anchorwomanMatt Murphy, several people:
Matt Murphy (American football) (born 1980), American football player
Matt Murphy (blues guitarist) (born 1927), aka Matt "Guitar" Murphy , an American musician
Matt Murphy (Canadian musician)
Matt Murphy (Illinois politician), an American Republican Senator
Matt Murphy (wrestler) (born 1979), aka "All That" Matt Murphy, a retired American professional wrestler
Michael Murphy, several people:
Michael Murphy (actor) (born 1938), American actor
Michael Murphy (author) (born 1930), American Integral Movement author and co-founder of the Esalen Institute
Michael Murphy (diver) (born 1973), retired Australian Olympic diver
Michael Murphy (politician) (born 1949), New Jersey lobbyist, former Prosecutor and candidate for Governor
Michael Murphy (priest) (c. 1767–1798), co-leader in the Irish Rebellion of 1798
Michael Murphy (singer) (born 1986), New Zealand Idol runner up
Michael Murphy (VC) (c. 1837–-1893), Irish recipient of the Victoria Cross
Michael Bryan Murphy, former lead singer of REO Speedwagon
Michael D. Murphy, United States Air Force Colonel under charges for falsely claiming to be an attorney
Michael P. Murphy (1976–-2005), United States Navy SEAL and Medal of Honor recipient, killed in action in Afghanistan
Michael Martin Murphey (born 1945, American singer and songwriter
Mick Murphy (Irish Socialist Party), Irish socialist party politician from Dublin
Mick Murphy (Sinn Féin politician) (born 1942)
Mike Murphy (broadcaster) (born 1941), retired Irish broadcaster
Mike Murphy (Hong Kong), professor at the University of Hong Kong
Mike Murphy (ice hockey b. 1950), retired ice hockey player and head coach, currently NHL vice-president of hockey operations
Mike Murphy (ice hockey b. 1989), ice hockey player for the Belleville Bulls of the Ontario Hockey League
Mike Murphy (New Brunswick politician) (born 1958), Canadian lawyer and Liberal politician
Mike Murphy (political consultant) (born 1962), American Republican political consultant
Mike Murphy (Washington politician), Democratic Treasurer of the State of Washington
N
Nicholas Murphy (born 1978), Gaelic footballer
Nicholas Daniel Murphy (1811-–1890), Irish politician from Cork, Member of Parliament (MP) 1865-–1880
Nick Murphy (born 1979), American football player
Nick Murphy (American football) (born 1979), American football player
Nick Murphy (footballer born 1946) (born 1946), English footballer
Nick Murphy (footballer born 1966) (1966–1998), English footballer
Nick Murphy (writer) (born 1977), Irish writer
O
Oakes Murphy (1849–1908), Two-time Governor of Arizona Territory
P
Peter Murphy (artist) (born 1959), English Stuckist artist
Peter Murphy (footballer born 1980) (born 1980), Irish international footballer
Peter Murphy, American lawyer and officer in the United States Marine Corps
Peter Murphy (musician) (born 1957), British musician with Bauhaus
Peter Murphy (politician) (born 1949), American politician, Member of the Maryland House of Delegates
Peter Murphy (UK footballer) (1922–1975), aka "Spud" Murphy, English footballer
Peter Murphy (executive) American entertainment executive
Philip D. Murphy (born 1957), ambassador
R
Dick Murphy (Richard M. Murphy) (born 1942), American retired Republican politician
Richard Murphy, Scottish architect
Richard Murphy (poet) (born 1927), Irish poet
Richard Murphy (screenwriter) (1912–1993), American film and television writer
Richard L. Murphy (1875–1936), American Senator from Iowa
Richard W. Murphy (born 1929), American diplomat
Rob Murphy (born 1960), American retired baseball player
Rob Murphy, American assista basketball coach
Rob Murphy (football player) (born 1977), professional Canadian football player
Rob Murphy (ice hockey) (born 1969), Canadian retired ice hockey player
Irish Bob Murphy (1922–1961), American light heavyweight boxer
Bob Murphy (announcer) (1924–2004), American baseball announcer
Bob Murphy (golfer) (born 1943), American PGA winning golfer
Bob Murphy, Canadian jazz pianist
Robert Murphy (Australian rules footballer) (born 1982), Australian rules football
Robert C. Murphy (1926–2000), American lawyer and judge
Robert Cushman Murphy (1887–1973), American ornithologist
Robert Daniel Murphy (1894&ndas1978), American diplomat
Robert F. Murphy, American retired Republican politician, Lieutenant Governor of Massachusetts from 1957 to 1961
Robert F. Murphy (anthropologist) (1924–1990), American anthropologist
Robert P. Murphy (born 1976), American economist and author
Robert S. Murphy (1861–1912), American politician, Lieutenant Governor of Pennsylvania from 1907 to 1911
Roger P. Murphy, American legislator and jurist
Róisín Murphy (born 1973), Irish electronica singer, songwriter, and producer
Ryan Murphy (Australian rules footballer) (born 1985)
Ryan Murphy, American television writer, director and producer
S
Scott Murphy, former US Representative for New York's 20th congressional district
Scott Murphy, a programmer behind the Space Quest series
Sean Murphy, cartoonist
Sean Murphy, professor at Royal Holloway, University of London
Seán Murphy, retired Irish football player
Sean Murphy (golfer) (born 1965), American professional golfer
Sean Murphy (journalist) (born 1958), Australian journalist
Sean Murphy, a fictional character on the television series Oz
Sean Murphy (racer) (born 1984)
Shaun Murphy (cue sports) (born 1982), English snooker player
Shaun Murphy (footballer) (born 1970), retired Australian soccer player
Shaun Murphy, aka Stoney, American singer
T
Tim Murphy (born 1959), retired Canadian politician
Tim Murphy, a fictional character in Jurassic Park
Tim Murphy (congressman) (born 1952), American Republican politician
Tim Murphy, currently at Harvard University
Timothy Murphy (1751–1818), sniper in the American Revolutionary War
Timothy D. Murphy (died 1928), aka "Big Tim", Chicago mobster and labour racketeer
Timothy J. Murphy (died 1949), Irish Labour Party politician
Timothy Patrick Murphy (1959–1988), American film and television actor
Tom Murphy (athlete) (born 1935), American middle distance runner
Troy Murphy, power forward for the Boston Celtics
V
Vincent B. Murphy, NYS Comptroller 1925–1926
Vincent J. Murphy, Mayor of Newark 1941–1949
Wendell H. Murphy, North Carolina politician
W
William Murphy, several people
Y
Yale Murphy (1869–1906), American baseball player
Yo Murphy, football player, CFL, NFL
Save