Collins Name History
Collins Irish Coat of Arms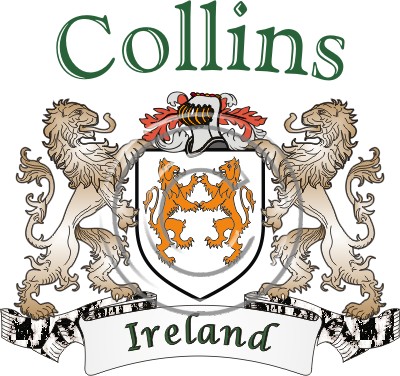 Collins roots in Ireland and Britain
The surname Collins has a variety of likely origins in Britain and Ireland:
Anglo-Saxon: A patronymic surname based on the name Colin, an English diminutive form of Nicholas. In England, Collins usually signified "son of Colin."
Irish: "cuilein" = darling, a term of endearment applied to a whelp or young animal. The medieval surname was Ua Cuiléin, which has usually become Ó Coileáin today.
Welsh: Collen = hazel, hazel grove.
Alternative spellings or related surnames include Collin, Colling, Coling, Collings, Colings, Collis, Coliss, Collen, and Collens.
Collins in early historical records
The earliest documented evidence of the name in England dates back as far as the twelfth and thirteenth centuries where several instances have been recorded. One Colinus de Andresia appears in the pipe rolls of Berkshire in 1191, while a Colinus is mentioned in Hartopp's Register of the Freeman of Leicester recorded in 1196. The name Colinc is also mentioned several times in the Domesday Book. The personal name Colin from which the surname derives has an even older history; Ceawlin, the king of the West Saxons, Caelin, a brother of St Chad, and the early Welsh saint, Kollen, all have names related to Colin. In Ireland, Collins may be regarded as a genuinely indigenous Irish name; in fact, it is one of the most numerous surnames, ranked number 30.
Variant Spellings of the Irish surname Collins include Collin, Collings, Colling, Collis, Coullins, Caullings, Caullis, Colins, Colings, Coliss, and many more.
More about Collins family crest and name history
The Collins history is long and storied. We have two heirloom-quality products that provide detailed information on the Collins coat of arms and name.
We also carry many other products, including clothing, glassware, flags and more, all of which can be personalized with the Collins coat of arms and surname. Visit our Irish Coat of Arms page for great gift ideas.
Find a Collins pub in Ireland
Where better to take a selfie than in front of Collins Pub in Ireland? You can find at least three pubs in Ireland bearing the Collins name:
If you can't visit in person, our personalized pub gifts are the next best thing!
Notable people named Collins
A. E. J. Collins, English cricketer
Albert Collins (1932-–1993), American blues musician
Alfred Collins, London's longest-serving taxi driver
Allen Collins, American guitarist
Andrew B. Collins (analyst), American research analyst
Andrew Collins (writer), British writer and broadcaster
Ann Collins, American painter
Annie Collins, New Zealand film editor
Anthony Collins, English philosopher
Anthony G. Collins, American university president
Anthony Vincent Collins (1893-–1963), British film score composer and conductor
Arthur Collins (singer)
Arthur A. Collins, founder of Collins Radio
Arthur L. Collins, murdered mine manager
Barbara-Rose Collins, American politician
Barnabas Collins, fictional vampire from Dark Shadows
Ben Collins (driver), British racing driver
Ben Collins (programmer), Debian Project Leader from January 1999 to March 2001
Bev Collins, Canadian politician
Bill Collins (television presenter), Australian film critic and television presenter
Bill Collins (racecaller), Australian racecaller
Bill Collins (baseball outfielder), American baseball outfielder
Billy Collins, American poet
Bob Collins (American radio broadcaster), American broadcaster
Bob Collins (Australian politician), Australian politician
Bobby Collins (footballer), Scottish footballer
Bootsy Collins, American funk bassist, singer, and songwriter
Brent Collins, American actor
Bridget Jean Collins, maiden name of American playwright Jean Kerr
Bud Collins, American journalist
Cardiss Collins, American politician
Careena Collins, American porn actress
Carla Collins, an entertainer reporter
Catfish Collins, American guitarist, brother of Bootsy Collins
Cecil Collins, British artist
Cecil Collins (football), American football player and prison inmate
Charles Allston Collins, British Pre-Raphaelite artist
Chris Collins (basketball), American basketball player, son of Doug Collins
Chris Collins (politician), Canadian politician of Moncton North of New Brunswick Legislative Assembly
Christopher Collins, voice actor
Chuck Collins, American author on economic matters
Clifton Collins Jr., American actor
Dan Collins (ice hockey), American ice hockey player
Danny Collins, Welsh footballer
Darren Collins, Rushden and Diamonds all time record goalscorer
David Collins (governor), first governor of Van Diemens Land (later Tasmania)
David Collins (EastEnders), fictional character from EastEnders
Dean Collins, American actor
Dean Collins, American dancer
Dobson Collins, American football player
Dolly Collins, British folk singer
Don Collins, American former professional basketball player
Don Collins (baseball), American baseball player
Don Collins, alleged raper of Robbie Middleton who attempted to murder him by dousing petrol on him and setting him on fire
Donal Collins, priest and teacher accused of alleged sexual abuse of pupils in his charge
Doug Collins (journalist), former Canadian journalist, alleged Holocaust denier
Doug Collins (basketball), former NBA player, current coach
Doug Collins (footballer), English former footballer
Doug Collins (politician), US politician
Eamon Collins (1954-–1999), IRA member
Eamonn Collins (footballer) (born 1965), Irish footballer
Earl Collins, Canadian politician
Edward "Cocky" Trowbridge Collins Sr. (1887–1951), Major League baseball player
Ed Collins (American football) player, see Indianapolis Colts draft history
Ed Collins (rugby league), see Bulimba Cup
Ed Collins (musician), see Karl Loga
Eddie Collins, rapper known as Greydon Square
Edward Collins (figure skater)
Edward Collins (Irish politician) (born 1941), former Irish Fine Gael politician
Edward Collins (rugby league), Australian international rugby league footballer
Edward Collins (Wisconsin politician), served one year as a member of the Wisconsin State Assembly
Edward J. Collins, Jr., Massachusetts civil servant and public manager
Edward Joseph Collins, American composer and pianist
Edward Knight Collins (1802–-1878), American shipping magnate
Edward Treacher Collins, British surgeon and ophthalmologist
Edwyn Collins, Scottish musician
Eileen Collins, American astronaut
Elizabeth Collins, Canadian swimmer
Eoin Collins, Irish tennis player
Eric Collins, adventurer
Floyd Collins, American cave explorer
Francis S. Collins, American geneticist, administrator of the Human Genome Project, and director of the NIH
Francis Dolan Collins, American politician
Gail Collins Pappalardi, songwriter
Gary Collins (actor), American film and television actor
Gary Collins (American football) (born 1940), American football end and punter for the Cleveland Browns
Gary Collins (ice hockey), NHL player for the Toronto Maple Leafs
Gary Collins (NASCAR), NASCAR driver
Gary Farrell-Collins, Canadian politician
George Collins (cricketer) (1889–1949), English cricketer
George Collins (footballer), English football manager
George Collins (Nova Scotia politician) (1771–1813), mariner, merchant and political figure in Nova Scotia
George E. Collins, mathematician, one of the founders of computer algebra
George Roseborough Collins, historian
George W. Collins (1925–-1972), U.S. Representative from Illinois
Gerry Collins (broadcaster), Australian broadcaster
Gerard Collins (canoer) (born 1952), Irish slalom canoer
Gerry Collins (footballer) (born 1955), Scottish footballer and coach
Gerry Collins (politician), Irish Fianna Fáil politician
Glen Collins, New Zealand soccer player
Glenda Collins, pop singer
Godfrey Collins, British politician
Grant Collins, Australian drummer
Harlan Collins, American composer
Harry Collins, British academic
Heidi Collins, British broadcaster
Henry Collins, Canadian mayor of Vancouver
Henry Collins, Australian boxer
Herbert Collins, British architect
Herbert A. Collins, landscape and portrait painter
Herbie Collins, Australian cricketer
Ian Collins, high profile Australian businessman and former Australian rules footballer
Ian Collins (radio presenter), UK radio presenter
Ian Collins (soccer), American soccer coach at the University of Kentucky
Ian Collins (tennis), British tennis player from the 1920s and 30s
Jacinta Collins, Australian politician
Jack Collins (actor) (born 1923), 1950s stage actor, musicals include Take Me Along
Jack Collins (politician) (born 1944), American college basketball coach and Speaker of the New Jersey General Assembly
Jack Collins (umpire), former Australian Test cricket umpire
Jack A. Collins, Australian rules footballer for Melbourne
Jack C. Collins, Coleman Medal winning Australian rules footballer for Footscray
Jack Cecil Collins, Australian rules footballer for Essendon
Jack Collins, former Australian rules footballer in the VFL and football administrator
Jack Collins, former Australian Test Cricket Umpire
Jack L. Collins, Australian rules footballer for Geelong
John W. Collins, American chess player and teacher
C. John Collins, aka Jack Collins, conservative evangelical and fellow of the Discovery
Jackie Collins, British novelist
James Collins, bioengineer and MacArthur "genius"
[[Isabella Collins | "the best collins in the world"
James Collins, Welsh footballer playing for West Ham
James Collins, Irish politician and father of Gerard Collins
James Collins, NBA basketball player
James C. Collins, American business theorist
James M. Collins, American politician
Jane Collins, fictional character from EastEnders
Jason Collins, NBA Basketball player
Jason Collins, American surfer
Jarron Collins, NBA Basketball player
Jeremiah Collins, fictional character from Dark Shadows
Jerry Collins, New Zealand rugby player
Jess Collins, American artist
Jessica Collins, American actress, starring in Tru Calling
Jessica Collins, American actress, starring in Rubicon and The Nine
Jimmy Collins, American baseball player
Jim Collins, inventor and Rhodes Scholar
Jo Collins, American model
Joan Collins, British actress
Joe Collins (1922–-1989), American baseball player
Canon John Collins, (1905-–1982), UK radical Anglican cleric
John Churton Collins (1848–-1908), English literary critic
John Collins (governor), (1776-–1822), American manufacturer and Governor of Delaware.
John Augustine Collins (1899-–1989), Royal Australian Navy
John Collins (American Football executive)
John Collins (Australian musician) (Powderfinger)
John Collins (Canadian musician), of The New Pornographers and The Smugglers
John Collins (delegate) (1717–-1795), Rhode Island delegate to Continental Congress
John Collins (footballer born 1968), Scottish football player and manager
John Collins (jazz guitarist)
John Collins (mathematician) (1625–-1683), English mathematician
John Collins (musician/researcher)
John Collins (poet) (1742–-1808), English orator, singer, and poet
John Collins (theater) (born c. 1969), American experimental theater director
John Colins (UK businessman) (born 1941), former head of National Power
John Collins (VC)
John D. Collins, British actor, best known for his role as one of the British airmen in 'Allo 'Allo
John F. Collins (1872-–1962), Mayor of Providence, Rhode Island (1939-–1941)
John F. Collins (1919–-1995), Mayor of Boston, Massachusetts (1960–-1968)
John H. Collins, American classical scholar
John W. Collins, chess instructor
Johnny Collins, British folk singer
Joseph Collins (1866-–1950), American neurologist
Joseph Henry Collins, mining engineer and geologist
Joseph Lawton Collins (1896–-1987), American soldier
Judith Collins, New Zealand politician
Judson Dwight Collins (1823–-1852), Methodist missionary to China
Judy Collins, singer
Justin Lee Collins, British comedian
Kate Collins, American actress
Kerry Collins, a quarterback in the National Football League
Kim Collins (born 1976), runner from St Kitts and Nevis
Kreigh Collins, American tennis player.
Larry Collins from the music group The Collins Kids
Larry Collins (1929-–2005), American writer