Brennan Name History
Brennan Irish Coat of Arms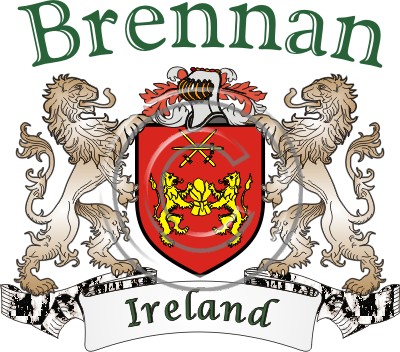 Brennan is an Irish surname which is an Anglicised form of two different Irish language surnames —Ó Braonáin and Ó Branáin.
The Gaelic surname Ó Braonáin, means "descendant of Braonán." The personal name Braonán is derived from a word which means "moisture," "drop." The Gaelic surname Ó Branáin, means "descendant of Branán." The personal name Branán means "little raven." Brennan is also a given name. Variant spellings of the Irish surname Brennan: Brannon, Brannan, Brannen Brannin, Brennyn, Brannyn, Brenan, Branen, Branon, Brenon, and many more.
Legends of the Brennan family in Ireland
Legend has it that the Brennans were a wealthy family for years in Leinster, but they lost their fortune in the 1600s and became highwaymen.The famous Irish song, "Brennan on the Moor," was inspired by the Robin Hood-like legend of the Brennans.
Learn more about the Brennans
The Framed Irish Family Name History, (#1760) has more information on the Brennan surname. There is a wide selection of Brennan coat of arms products at The Irish Rose. Please visit the Irish Coat of Arms page.
Find a Brennan Pub in Ireland
Don't miss taking a selfie in front of Brennan's Kilteel Inn, in Kilteel, County Clare, southwest of Dublin.
If you can't make it there in person, our personalized pub gifts are the next best thing!
Notable people named Brennan
A
Deputy Andy Brennan, a fictional character from the television series Twin Peaks
B
Barbara Brennan (born 1939), an American author and spiritual healer
Bishop Brennan, a fictional character from the television series Father Ted
Brian Brennan (born 1962), a former professional American football player
Bridin Brennan (born 1974), an Irish pop singer
C
T. Casey Brennan (born 1948), an American comic book writer
Christopher Brennan (1870-–1932), Australian poet and scholar
Ciarán Brennan (born 1954), an Irish singer and musician
Colt Brennan (born 1983), an American football player
D
Daniel Brennan, Baron Brennan
David Brennan (businessman)
Dean Brennan, Irish footballer
Don Brennan (Coronation Street Character)
Don Brennan (Cricketer)
Duncan Brannan, voice actor sometimes credited as Duncan Brennan
E
Eileen Brennan, actress
Enya Brennan, the singer Enya (Irish name Eithne Ni Bhraonain)
G
Geoffrey Brennan, professor of philosophy
Gerard Brennan, Justice and later Chief Justice of the High Court of Australia
J
J. Keirn Brennan (1873-–1948), American songwriter
James Alexander Brennan (1885-–1956), American songwriter
Jack Brennan, a military aide to President Richard M. Nixon
Jack Brennan (1863-–1914), American baseball player
Jacob Brennan (born 1990), Australian rules footballer
Jim Brennan is a Football (soccer) player
John O. Brennan Former NCTC Director, CEO of TAC
Joseph Brennan (basketball) (1900-–1989), American basketball player
Joseph Brennan (civil servant)
Joseph Brennan (Irish politician)
Joseph Brennan (politician)
Joseph Payne Brennan (1918–1990), American poet/author; WWII Veteran, ETO
K
Kathleen Brennan, American musician
Kevin Brennan (comedian) (born 1960), American comedian
Kevin Brennan (politician) (born 1959), British Labour Party politician and MP
L
Lee Brennan, singer
Les Brennan, Australian rugby league footballer
Louis Brennan, 19th century inventor
M
Martin Brennan (engineer)
Martin Brennan (Irish politician)
Michael Brennan (field hockey player)
Michael Brennan (Fine Gael)
Michael Brennan (Progressive Democrats)
Mitch Brennan, Australian rugby league footballer
Moya Brennan, singer, musician in Clannad, and the sister of Enya
N
Neal Brennan, American writer, stand-up comedian, television director and producer
O
Owen Brennan, New Orleans restaurateur
P
R
Reed Brennan, a fictional character from the book series Private
S
Séamus Brennan, Irish politician
Sean Brennan, singer in London After Midnight (band)
T
Temperance "Bones" Brennan, a fictional character from the television series Bones
Terence "Terry" Patrick Brennan, American Football Coach, Notre Dame, 1953-58
Thomas Brennan (Irish Land League) (1853-–1912), Irish politician
Thomas Brennan (Fianna Fáil) (died 1953), Irish politician
Thomas E. Brennan (born 1929), American jurist, former Chief Justice of the Michigan Supreme Court
Thomas Francis Brennan (1853-1937), American Catholic bishop; 1st Catholic bishop of Dallas 1891-1893
Tom Brennan (politician)
Tom Brennan (basketball coach), American sportscaster and former University of Vermont basketball coach
Tom Brennan (basketball), basketball player for Villanova University and the Philadelphia Warriors
Tom Brennan (baseball), 1980s baseball player
Tom Brennan (ice hockey) (1922–-2003), American ice hockey player for Boston Bruins
V
Vincent M. Brennan (1890-–1959), U.S. Representative from Michigan
W
Walter Brennan, actor
William J. Brennan, Jr., 20th century justice on the U.S. Supreme Court