Flanagan Name History
Flanagan Irish Coat of Arms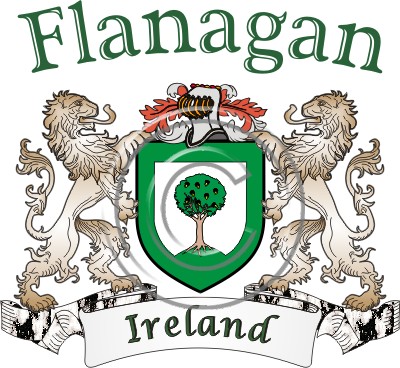 Flanagan is a common Irish surname. There were at least 3 separate clans in Ireland with no connection. In Gaelic the name is Ó Flannagáin and many variations exist today. Variant spellings of the Irish surname Flanagan include Flanagan, Flanigan, Flannigan, Flannaghan, O'Flanagan, O'Flannagain, Flaniken, Flenigen and more.
The name Flanagan derives from the Gaelic form, O Flannagain. 'Flann' means red or ruddy. The name Flanagan comes from the Irish county of Roscommon. The Flanagan motto is, "Certavi et vici," which means "I have fought and conquered."
Find out more about Flanagans in Ireland
The Flanagan coat of arms features an oak tree on a white background. For detailed Flanagan name history information, visit our Framed Irish Family Name History (#1760).
The Irish Rose has a large selection gift items featuring Flanagan coat of arms. See the Irish coat of arms page on theirishrose.com for family crest ideas and products.
Find a Flanagan Pub in Ireland
There's more than one place to raise a pint in Ireland if you're a Flanagan looking for a namesake pub. Try one of these fine establishments:
If you can't visit in person, our personalized Flanagan pub gifts are the next best thing!
Notable people named Flanagan
Bob Flanagan, American writer
Bud Flanagan, English entertainer
Caitlin Flanagan, writer
Caroline Flanagan, President of Law Society of Scotland
Charles Flanagan, politician
Crista Flanagan, comedian, actress
Edward J. Flanagan, founder of Boys Town
Fionnula Flanagan, actress
Hallie Flanagan, theatre director, producer
Harley Flanagan, musician
Helen Flanagan, actress
Ian Flanagan, tennis player
James Flanagan (engineer)
James Flanagan (RUC)
James W. Flanagan, politician
John Flanagan (athlete), hammer thrower
John Flanagan (author)
John Flanagan (politician)
John Flanagan (sculptor)
John J. Flanagan, politician
John C. Flanagan, colonel, psychologist, author of the Critical Incident Technique
Kitty Flanagan, Australian comedian
Maile Flanagan, American actress
Martin Flanagan (journalist), journalist
Michael Patrick Flanagan, politician
Micky Flanagan, comedian
Mike Flanagan (American football)
Mike Flanagan (baseball player)
Mike Flanagan (footballer)
Nick Flanagan, Australian golfer
Oliver J. Flanagan, Irish politician
Owen Flanagan, philosopher
Patrick Flanagan, inventor
Paddy Flanagan, cyclist
Pauline Flanagan, actress
Richard Flanagan, author, historian, film director
Roderick Flanagan, journalist, poet, historian
Ronnie Flanagan, former Chief Constable of the Police Service of Northern Ireland
Seán Flanagan, politician
Shalane Flanagan, middle distance runner
Shane Flanagan, Australian rugby league football coach
Steamer Flanagan, baseball player
Thomas Flanagan (Irish politician)
Thomas Flanagan (writer)
Tommy Flanagan (actor)
Tommy Flanagan, jazz pianist
Tom Flanagan (political scientist)