Doherty Name History
Doherty Irish Coat of arms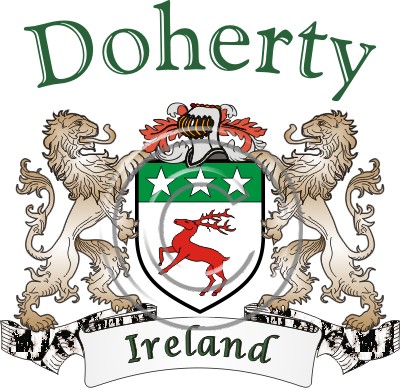 Doherty is an Irish surname and an Irish clan. Dohertys were a prominent sept in the Irish county of Donegal. They were known for fighting against the Norman invation of 1170. Following the Flight of the Earls in 1607, the chief of the Dohertys, Sir Cahir O'Doherty, rose up in the following year against English domination in Ireland and the plantation of Protestant settlers in what is known as O'Doherty's Rebellion. The Doherty coat of arms motto is, "Ar nDutcas" or "Our Heritage."
The original Gaelic spelling of Doherty was O Dochartaigh, or Ó Dubhartaigh in Munster. Today variant spellings of the Irish surname Doherty include Dockeray, Dockerty, Dockharty, Dogharty, Dougherty, Doherety, Dohertey, Docherty, Docharty and many more.
Details about Dohertys in Ireland
The Dohertys were an important and influential family in Ireland. We are honored to offer two framed documents that provide more details on the Doherty surname and coat of arms. The Framed Irish Family Name History and Framed Irish Coat of Arms & Family History are heirloom-quality framed prints that describe the Doherty family history in detail.
Doherty is one of the many Irish coats of arms and surnames available on clothing, glassware, home decor, and other quality gifts. See the Irish coat of arms page on theirishrose.com for family crest ideas and products.
The Doherty Pub in Ireland
It's always special to see a real Irish pub with your family name on it. Visit John O'Doherty's in Buncrana, County Donegal for a once-in-a-lifetime family photo.
If you can't visit in person, our personalized pub gifts are the next best thing!
Notable people named Doherty
B
Berlie Doherty, novelist
Brian Doherty (politician), a Chicago alderman
Brian Doherty (libertarian journalist), journalist
Brian Doherty (drummer), musician
C
Catherine Doherty, social activist
Charles Joseph Doherty, Canadian politician and jurist
Christopher Doherty, current mayor of Scranton, Pennsylvania
D
David Doherty, rugby player
Denny Doherty, singer
Diana Doherty, oboist
E
Earl Doherty, author
Ed Doherty, politician
Eddie Doherty, reporter, author, screenwriter and ultimately ordained priest
Edward P. Doherty, led the soldiers that captured the assassin of Abraham Lincoln
G
J
Joe Doherty, member of the Provisional Irish Republican Army
John Doherty, multiple people
K
Ken Doherty, snooker player
Kevin Doherty, Canadian judoka
Kieran Doherty, member of the Provisional Irish Republican Army
L
Lawrence Doherty, tennis player
M
Martin Doherty member of Provisional Irish republican Army
Matt Doherty (disambiguation), multiple people
Michael J. Doherty, New Jersey politician
P
P. C. Doherty, writer
Pat Doherty, politician
Pete Doherty, English singer
Peter Doherty (footballer), footballer
Peter C. Doherty, researcher
R
Reginald Doherty, tennis player
Richard Doherty, historian
Ryan E. Doherty, Pennsylvania Police Officer
S
Seán Doherty (Roscommon politician), politician
Sean Doherty (footballer), footballer
Shannen Doherty, American actress
T
Thomas M. Doherty, American Medal of Honor recipient
Tommy Doherty, footballer
W
William H. Doherty, electrical engineer
Willie Doherty, artist
X
Xavier Doherty, Australian cricketer