Sullivan Name History
Sullivan Irish Coat of arms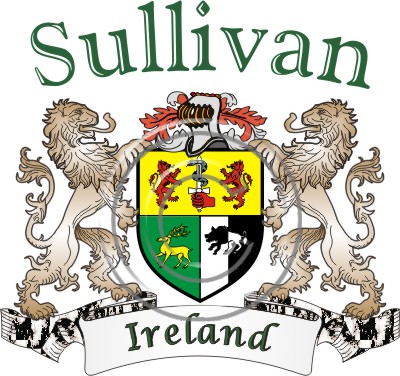 From the Sullivans 'R' Us Blog, "O'Sullivan is the third most popular name in Ireland behind Murphy and Kelly. Tipperary was the original territory of this sept (family group). There seem to be two major Irish septs of O Sullivans in Ireland now. They are the O Sullivan Mor and the O Sullivan Beare Families. The Mor group may be the main line because the word Mor means main. They were based in the County Kerry and later moved to the Kenmore Peninsula known today as the Ring of Kerry. They had a castle at Kenmore called Dunkerron. The O Sullivan Beare (Bear, or Beare or Beara refers to the Beara Peninsula) group was based in County Cork and later moved into the Bantry Bay area and had a castle at Ardloe."
More about Sullivan family crest and name history
The Sullivan history is long and storied. We have two heirloom-quality products that provide detailed information on the Sullivan coat of arms and name.
We also carry many other products, including clothing, glassware, flags and more, all of which can be personalized with the Sullivan coat of arms and surname. Visit our Irish Coat of Arms page for great gift ideas.
Visit Sullivan's Pub in Ireland
You can find at least two pubs with the Sullivan or O'Sullivan name.
If you can't visit in person, our personalized pub gifts are the next best thing!
Notable people named Sullivan
Andrew Sullivan, conservative author and political commentator
Anne Sullivan, teacher and mentor to Helen Keller
Arthur Sullivan, the composer, best known for his work as part of Gilbert and Sullivan
Brittany "McKey" Sullivan, winner of America's Next Top Model, Cycle 11
Charles L. Sullivan, American politician
Chub Sullivan, Major League Baseball first baseman
Christopher Daniel Sullivan, US Representative from New York from 1917 to 1941
Cory Sullivan, Major League Baseball outfielder
Danny Sullivan, race car driver and former winner of the Indianapolis 500
Danny Sullivan (technologist)(born 1965), expert in search engine optimization
Dennis Sullivan, an American mathematician
Eamon Sullivan, Australian Olympic swimmer
Ed Sullivan, an American entertainment writer who hosted a TV variety show (The Ed Sullivan Show) in the 50s and 60s
Edmund Joseph Sullivan book illustrator
Erik Per Sullivan, American actor, most known as Dewey on Malcolm in the Middle
Harry Stack Sullivan, an American psychologist and psychoanalyst
Gary Sullivan, Surgeon & Author of "The History of the O'Sullivan Clan"
James Sullivan, Irish Composer/Singer/Songwriter
Jeremiah C. Sullivan, American Civil War general in the Union Army
John Sullivan, General in the American Revolution and Governor of New Hampshire
John L. Sullivan, an American prize-fighter
John Louis O'Sullivan, America journalist who coined the phrase Manifest Destiny
Joseph Sullivan, FBI agent, Major case inspector
J. W. N. Sullivan, journalist and writer of popular science
Kevin Sullivan, American Pro Wrestler
Kate Sullivan, New York City news anchor
Kathryn Dwyer Sullivan, first American woman astronaut to walk in space
Kyle Sullivan, American actor
Liam Kyle Sullivan, American comedian/actor
Louis Sullivan, architect of the early 20th century
Mick Sullivan, English rugby league footballer
Nicole Sullivan, American actress, voice actress, comedian
Patrick Joseph Sullivan, a Wyoming senator
Patrick J. Sullivan (Pennsylvania), a Pennsylvania congressman
Robert Baldwin Sullivan, Canadian lawyer, judge, and politician who became the 2nd Mayor of Toronto
Sam Sullivan, Mayor of Vancouver, BC
Steve Sullivan, North American NHL hockey player
Timothy Daniel Sullivan, Irish politician
Timothy J. Sullivan, the twenty-fifth president of The College of William & Mary
William H. Sullivan, US Ambassador