Ryan Name History
Ryan Coat of Arms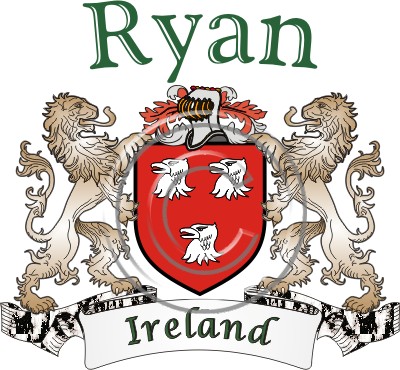 There are several possible origins for the Irish surname Ryan. In certain cases it can be a simplified form of Mulryan. In other cases the surname may be derived from the Irish Gaelic Ó Riagháin (modern Irish: Ó Riain), meaning "descendant of Rían" or Ó Maoilriain, "descendant of Maoilriaghain," or Ó Ruaidhín, "descendant of the little red one." The old Gaelic personal name Rían is of uncertain origin. It may be derived from the Gaelic rí, meaning "king."
The counties in Ireland most associated with Ryans are Carlow, Tipperary, and Limerick, although a distinct Rian line is believed to derive from Rian, the mid-10th century King of the territory Ui Cinsealaigh in South Leinster.
Ryan is among the top 10 leading names in Ireland, and it is just as popular for a first name as it is a last name.
Variant spellings of the Irish surname Ryan include O'Ryan, Mulrian, Mulryan, O'Mulrian, among others. The Ryan coat of arms motto is, "I Would Rather Die Than Be Disgraced."
How to find out more about the Ryan family crest
We are proud to offer two items that may shed more light on the Ryan family coat of arms and history in Ireland. Our Framed Irish Family Name History (#1760) and Framed Irish Coat of Arms & Family History (#1700) provide more details about the Ryan family in Ireland. These beautiful framed documents will be treasured in the Ryan family for years to come.
Find other Ryan coat of arms products on the Irish Coat of Arms page.
Where to find Ryan pubs in Ireland
There are quite a few pubs in Ireland that bear the Ryan name:
If you can't visit one of these fine Ryan establishments, our personalized pub gifts are the next best thing!
Notable people named Ryan
Abram Joseph Ryan, Catholic Priest, poet.
Andrew Ryan (rugby player), Australian rugby league player
B.J. Ryan, baseball player
Barry Ryan (born 1948), English pop singer
Barry Ryan (born 1949), U.S. Catholic priest
Bernard Ryan, Jr., American author
Bianca Ryan, American singer and America's Got Talent winner
Bobby Ryan, American hockey player
Chris Ryan (rugby league), Australian rugby league footballer
Christopher Ryan, British actor
Debby Ryan, American actress
Donnell Ryan, Federal Court of Australia judge
Edward Ryan, English lawyer and judge
Francis T. Ryan, American Medal of Honor recipient
Fred Ryan (born 1955), CEO of Politico.com, former aide to Ronald Reagan
Frederick Ryan (1876-–1913), Irish playwright and socialist
George H. Ryan, Former Illinois governor
Gerry Ryan, Irish radio presenter
Gig Ryan, Australian Poet
Harold M. Ryan (born 1911), U.S. Representative from Michigan
Irene Ryan (1902-–1973), actress
Jeri Ryan, U.S. actress
Jimmy Ryan, 19th century baseball player
Kevin Ryan, New Zealand long-distance runner
Lacy Ryan (c. 1694-1760), English actor
Leo Ryan, Former Congressman from San Francisco, killed at Jonestown
Lee Ryan English singer and former member of the boyband blue
Liza Ryan (born 1965), an American photographer
Lucille Frances Ryan, a.k.a. Lucy Lawless
Mark F. Ryan, Dr., Irish author and nationalist
Meg Ryan (born 1961), U.S. actress
Michelle Ryan (born 1984), British actress of Irish ancestry
Neal Ryan (born 1981), musician and guitar builder
Nolan Ryan (born 1947), baseball player
Patrick John Ryan, archbishop
Patrick Ryan, author and journalist
Paul Ryan (1948-–1992), British singer and songwriter
Paul Ryan (born 1970), U.S. Representative from Wisconsin, Chairman of Budget Committee
Perry T. Ryan, American author
Prestin Ryan, Canadian ice hockey player
Rachel Ryan famous nurse
Richie Ryan, Irish politician
Robert Ryan (1909-–1973), actor
Ronald Ryan (Last person to be legally executed in Australia.)
Roz Ryan, actress
Thomas Ryan (1870–-1943), Australian politician
T. Claude Ryan (1898-–1982), an American aviator and aeronautic engineer
T. J. Ryan (1876-–1921), Australian politician —Premier of Queensland — also, later, Federal Member for West Sydney
Thomas Jay Ryan, actor
Walter D'Arcy Ryan, lighting engineer
William Patrick Ryan (1867–-1942), Irish author and journalist
Fictional characters
April Ryan, appearing in the computer adventure games The Longest Journey and Dreamfall
Andrew Ryan, the founder of Rapture and a major character in the 2007 video game Bioshock
Archie Ryan, the pseudonym of Lincoln Burrows, a fictional character from the television show Prison Break
Barbara Ryan, character in the soap opera As the World Turns
Caitlin Ryan, a character in the Degrassi franchise
Jack Ryan, character in several Tom Clancy novels
Jack Ryan, a separate character and the primary protagonist of the 2007 video game Bioshock
Jake Ryan, character in Sixteen Candles/Hannah Montana, TV character portrayed by Cody Linley
Nory Ryan, main character in book Nory Ryan's Song by Patricia Reilly Giff
Richie Ryan, fictional character in Highlander: The Series;
James Francis Ryan, character in the 1998 American war film Saving Private Ryan