Riley Name History
Riley Irish Coat of Arms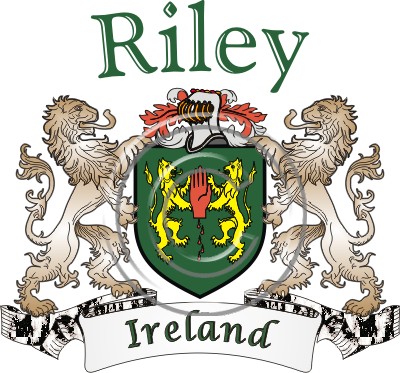 Riley is a surname of English or Irish origin. The English version derives from the Old English words rye and leah (meaning 'wood' or 'clearing'). The Gaelic version is Ó Raghallaigh. Read more about the Riley surname and coat of arms on the Reilly Name History page.
Variant spellings of the Irish surname Riley include Reilly, Rielly, Reilley, Reily, O'Riley, and many others.
How to find out more about the Riley family crest
We are proud to offer two items that may shed more light on the Riley family coat of arms and history in Ireland. Our Framed Irish Family Name History (#1760) and Framed Irish Coat of Arms & Family History (#1700) provide more details about the Riley family in Ireland. These beautiful framed documents will be treasured in the Riley family for years to come.
Find other Riley coat of arms products on the Irish Coat of Arms page.
Does Ireland have an Riley's Pub?
We looked, but didn't find a pub with the Riley spelling. We did find quite a few pubs for Reilly and O'Reilly. If you find a Riley's Pub on your next visit to Ireland, please let us know and send us the info!
If you can't visit one of these fine establishments, our personalized pub gifts are the next best thing!
Notable people named Riley
Ali Riley (born 1987), American-born New Zealand soccer player
Andy Riley (born 1970), British writer and cartoonist
Arthur Riley (born 1903), South African footballer
Audrey Riley, English cellist
Bennett C. Riley (1790-–1853), American military governor of California before it became a US state
Bernard Riley (born 1981), American football player
Bill Riley (born 1950), Canadian ice hockey player
Billy Riley, English catch wrestling instructor
Billy Lee Riley (1933-–2009), American musician
Ben Riley (born 1933), American jazz drummer
Bob Riley (born 1944), American politician, Governor of Alabama
Bob C. Riley (1924–-1994), American politician, briefly Governor of Arkansas in 1975
Boots Riley, American vocalist
Bob Riley, founder of race car company Riley & Scott
Bridget Riley (born 1931), British op-art painter
Bridgett Riley (born 1973), American boxer
Burke Riley (1914–-2006), American state legislator
Charles Owen Leaver Riley (1854–-1929), the first Anglican Archbishop of Perth
Charley Riley, American boxer
Charlotte Riley (born 1981), English actress
Chris Riley (golfer) (born 1973), professional American golfer
Chris Riley (priest) (born 1954), Australian Priest and prominent youth worker
Chris Riley (footballer), American USL Second Division soccer player
Christopher Riley (born 1967), English writer and film maker
Daniel Aloysius Riley (1916-–1984), Canadian politician
Dave Riley, American musician
Delbert Riley, Canadian First Nations leader
Denise Riley (born 1948), English professor of literature
Dorothy Comstock Riley (1924–-2004), American lawyer and judge
Doug Riley, Canadian musician
Eric Riley (born 1970), American basketball player
Forbes Riley (born 1960), American actress
Frank Riley, American athlete
Freida J. Riley (1937-–1969), American math and science teacher
Gary Riley (born 1963), American actor
Gina Riley (born 1961), Australian actor, writer, singer and comedian
Gwendoline Riley (born 1979), English writer
Harold Riley (artist) (born 1934), English artist
Harold William Hounsfield Riley (1877–-1946), Canadian politician from Alberta
Herbert D. Riley (1904-1973), United States Navy admiral
Herlin Riley (born 1957), American jazz drummer
Herman Riley (1933-–2007), American saxophone player
Hu Riley, American World War II soldier
Isaac Riley (1852-–1926), Canadian politician
Ivan Riley (1900-–1943), American Olympic athlete
Jack Riley (actor) (born 1935), American comedian and actor
Jack Riley (ice hockey b. 1910) (1910-–1994), Irish ice hockey player
Jack Riley (ice hockey b. 1919) (born 1919), Canadian ice hockey player
James Riley (Captain) Captain of the American merchant ship Commerce
James Riley (soccer player) (born 1982), American soccer winger for the New England Revolution
James Whitcomb Riley (1849-–1916), American writer and poet
Jeannie C. Riley (born 1945), American country and gospel music singer
Jim Riley (American football) (born 1945), American football player
Jo Riley (born 20th c., Josephine Riley), UK writer, translator, actor, specialized in Chinese theatre
Joe Riley (artist) (1964-–2007), U.S. artist, special effects artist, SubGenius
Joe Riley (hockey) (1923-–1976), U.S. ice hockey player
Joe Riley (rugby league), British rugby league footballer
John Riley (poet) (1937-–1978), English poet associated with the British Poetry Revival
John H. Riley (1947-–1994), American attorney and railroad transportation administrator
John J. Riley (1895-–1962), American politician, U.S. Representative from South Carolina
John P. Riley, Jr. or Jack Riley (born 1920), American ice hockey coach
Jon Riley (1805–-1850), Irish-American US Army officer who deserted to fight for Mexico in the Mexican war
Jonathon Riley (born 1955), British Army officer
Joseph Harvey Riley (1873-–1941), U.S. ornithologist, Smithsonian Institution
Joseph P. Riley, Jr. (born 1943), U.S. politician, Charleston mayor
Julia Riley, English astrophysicist
Karon Riley (born 1978), American football player
Ken Riley (born 1947), American football player
Kent Riley, English actor
Larry Riley (1952-–1992), American actor
Lawrence Riley (1896–-1974), American playwright
Lisa Riley (born 1976), English actress and broadcaster
Malcolm Riley (born 1960), British musician and author
Marc Riley (born 1961), British musician, critic, and disc jockey
Mark Riley (American radio host) (born 1951), American radio host
Mark Riley (journalist), Australian television presenter
Matt Riley (born 1979), American baseball player
Melanie Riley (born 1968), American businessperson
Michael Riley (born 1962), Canadian actor
Michael Riley (artist) (1960-–2004), Australian artist
Mike Riley (born 1952), American college football coach
Nancy Riley (born 1958), American state senator
Pat Riley (born 1945), American professional basketball coach
Patrick T. Riley, American political theorist
Paul Riley, Scottish actor and comedian
Peter Riley (born 1940), English poet
Raven Riley (born 1986), American adult-film actress
Richard Riley (born 1933), American politician, Governor of South Carolina 1979–1987
Rob Riley, Australian Aboriginal activist
Ronald Riley (born 1947), Australian Olympic field hockey player
Ruth Riley (born 1979), American basketball player
Sam Riley (born 1980), English actor
Samantha Riley (born 1972), Australian swimmer
Steve Riley, American accordionist, singer
Steve Riley (drummer) (born 1956), American drummer
Talulah Riley (born 1985), English actress
Teddy Riley (jazz) (1924-–1992), American jazz trumpeter
Teddy Riley (producer) (born 1967), American producer, singer, songwriter, and musician
Terry Riley (born 1935), American composer
Trevor Riley (born 1948), Australian judge
Victor Riley (born 1972), American football player
Wayne Riley (born 1962), Australian golfer