Reilly Name History
Reilly Irish Coat of Arms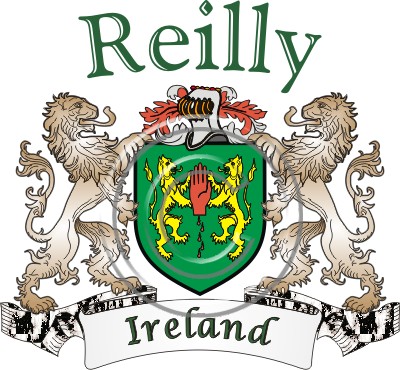 The name Reilly is an Anglicised form of the Gaelic Ó Raghallaigh and the patronymic form of the Irish name Reilly. The surnames Reilly and O'Reilly are found throughout Ireland, with most residents found in County Cavan, Longford, Meath, Westmeath, Fermanagh and Monaghan, in that order.
In the Reilly coat of arms, the bloody hand symbolizes Faith, Sincerity, and Justice. The motto for the Reilly family is, "With Fortitude and Prudence."
Variant spellings of the Irish surname Reilly include Reilley, Reily, Riely, Rielly, Riley, Rilley and many others.
More details about the Reilly family crest
The Irish Rose carries two items which may provide you with more details about the Reilly family in Ireland, their family crest, and other historical notes.
We also carry Reilly caps, shirts, flags, mugs, etched glassware, and heirloom products. Visit our coat of arms page to see all the items available with the Reilly name and family crest.
Reilly's pubs in Ireland
There are a number of pubs in Ireland named for the Reilly and O'Reilly families.
If you can't visit one of these fine establishments, our personalized pub gifts are the next best thing!
Notable people named Reilly
Alan Reilly, Irish footballer
Ben Reilly, fictional comic-book character
Brandon Reilly, frontman of the band "Nightmare of You"
Brent Reilly, Australian rules footballer
Charles Herbert Reilly, English architect
Charles Nelson Reilly, American actor and director
David Reilly (singer), American singer
Dianne Reilly, Australian politician
Donald Reilly, American cartoonist
Frank J. Reilly, American illustrator and art educator
Ike Reilly, American musician
Jack Reilly (artist), American artist
Jim Reilly, Irish drummer
Kelly Reilly, English actress
Lawrie Reilly, Scottish footballer
Long John Reilly, American baseball player
Maggie Reilly, Scottish singer
Mal Reilly, English rugby league player
Matthew Reilly, Australian Author
Mike Reilly (umpire), American baseball umpire
Paddy Reilly, Irish singer
Pauline Neura Reilly, Australian author and ornithologist
Rick Reilly, American sportswriter
Robert D. Reilly Jr, American rear admiral
Sean Reilly, Louisiana businessman and former legislatgor
Sidney Reilly, a Russian-born adventurer and Secret Intelligence Service agent
Tomás Francisco Reilly (1908-1992), American-born Catholic Bishop of San Juan de la Maguana, Dominican Republic
William K. Reilly, American company director