O'Reilly Name History
O'Reilly Irish Coat of arms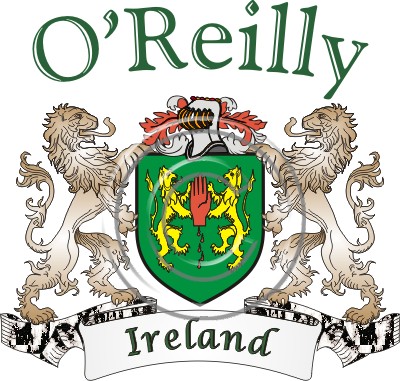 O'Reilly (/əˈraɪli/) is the Anglicised form of the Gaelic Ó Raghallaigh. It is also the patronymic form of the Irish name Reilly (Irish Gaelic: Uí Raghaile). It is commonly found throughout Ireland, with the greatest concentration of the surname found in County Cavan followed by Longford, Meath, Westmeath, Fermanagh and Monaghan, and the Province of Leinster. O'Reilly is ranked tenth in the top twenty list of Irish surnames.
The bloody hand in the O'Reilly coat of arms represents Symbol of Faith, Sincerity, and Justice. The motto for the O'Reilly family is, "With Fortitude and Prudence."
Variant spellings of the Irish surname O'Reilly include Reilley, O'Reily, O'Riely, O'Rielly, O'Riley, O'Rilley and many others.
Find out more details about the O'Reilly coat of arms
The Irish Rose carries two items which may provide you with more details about the O'Reilly family in Ireland, their family crest, and other historical notes.
We also carry O'Reilly caps, shirts, flags, mugs, etched glassware, and heirloom products. Visit our coat of arms page to see all the items available with the O'Reilly name and family crest.
Is there an O'Reilly's Pub in Ireland?
There are a number of named for the O'Reilly families in Ireland.
If you can't visit one of these fine O'Reilly establishments, our personalized pub gifts are the next best thing!
Notable people named O'Reilly
Alejandro O'Reilly (1722-–1794), second Spanish governor of colonial Louisiana
Bernard O'Reilly (1903-–1975), located the wreck of a Stinson airplane in the McPherson Range, Australia, 1937
Bernard O'Reilly (bishop of Hartford) (1803-–1856), Roman Catholic bishop
Bernard O'Reilly (bishop of Liverpool) (1824-–1894), Roman Catholic bishop
Bill O'Reilly (1949–), American commentator and television show host of The O'Reilly Factor on the Fox News Channel
Bill O'Reilly (cricketer), Australian cricketer
Bob O'Reilly, Australian rugby league footballer
Caitriona O'Reilly, poet and critic
Cal O'Reilly, Canadian ice hockey player
Cameron O'Reilly, Irish and Australian businessman
Charles Nelson Reilly (1931-–2007), American actor and director
Danny O'Reilly, Lead singer of Irish band, The Coronas
David O'Reilly (artist), film director and artist
David J. O'Reilly, Chairman and CEO of Chevron Corporation
Emily O'Reilly, Irish journalist
Finbarr O'Reilly, Canadian photographer
Gary O'Reilly, English footballer
Genevieve O'Reilly, Irish actress
Heather O'Reilly (1985–), American soccer player
Hugh Reily (1630-–1695), Irish M.P. and political author
James Reilly (Canadian politician) (1835–-1909), Canadian businessman and politician from Alberta
James F. Reilly (1954–), American astronaut
James E. Reilly, American writer of soap operas
Joe O'Reilly, IRA bodyguard of Michael Collins (Irish leader)
John O'Reilly, Leader of The Saint Patrick's Battalion of Mexico
John O'Reilly (1940–), Canadian politician from Ontario
John C. Reilly (1965–), Irish-American actor
Joseph O'Reilly, Irish politician
Leonora O'Reilly, an American feminist
Luke O'Reilly
Margaret M. O'Reilly (1962- ), Irish-born, American art curator, New Jersey State Museum
Matthew O'Reilly, Irish politician and farmer
Mr. O'Reilly, Fictitious Irish character/builder portrayed by the Irish actor David Kelly on the episode "The Builders" from Fawlty Towers
Paddy Reilly (1939–), Irish folk singer
Peter O'Reilly (civil servant) (1827-–1905), settler and official in the Colony of British Columbia
Peter O'Reilly (hurler) (1902-–1940), Irish hurler
Randall C. O'Reilly (1967–), professor of psychology, developer of Leabra
Robert O'Reilly (1950–), American actor
Ryan O'Reilly (ice hockey) (1991–), Canadian ice hockey player
Ryan O'Reilly (wrestler) (1980–), American professional wrestler
Samuel O'Reilly (19th century), American inventor
Sidney Reilly (1874-–1925), Russian-British spy
Stephen O'Reilly, American actor
Stephen O'Reilly, Australian footballer
Terry O'Reilly, hockey player
Thomas Reilly (1942–), American politician
Tom O'Reilly (1915–-1995), Irish Fianna Fáil politician
Tim O'Reilly (1954–), founder of O'Reilly Media
Tom O'Reilly (1915-–1995), Irish gaelic footballer and politician
Tom O'Reilly Irish Sinn Féin politician
Tom O'Reilly (rugby league), Papua New Guinea international
Tony O'Reilly (1936–), Irish billionnaire businessman
Walter Cresswell O'Reilly (1877–-1954), Australian Commonwealth Film Censor and founding President of the National Trust of Australia