O'Neill Name History
O'Neill Coat of Arms and Family Name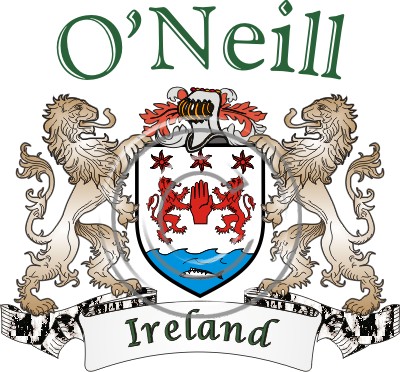 The surname O'Neill is ultimately of Irish Gaelic origin. It is an Anglicization of the original Gaelic Ua Néill, composed of the elements ua, meaning "grandson" or "descendant," and of the Gaelic name Niall. The meaning of the Niall is disputed, but has been suggested as "cloud," "passionate," or "champion."
The progenitor of the family is said to be Niall Noigiallach of the Nine Hostages, which legend claims was the High King of Ireland in the fifth century. However, it was the grandsons of Niall Glúndub, himself a descendant of Niall Noigiallach, who lived in the tenth century and who would have been the first to use the surname.
It is due to the Anglicization of the original Gaelic that the several spelling variations have emerged, during the transcribing of the name into English. Irish and Scottish variants also exist and include MacNeal, MacNiel and MacNeill, which arose when the ua element in the name was replaced with mac, meaning "son of." Ó has replaced Ua since the end of a standard Gaelic and its gradual evolution into Scottish, Manx and Irish. O'Neill is also occasionally found used as a given name. Other variant spellings of the Irish surname O'Neill include O'Neil, Neal, Neale, Neales, Neil, Nihill, O'Niel, O'Neal, and Neill, among others.
The O'Neill red hand
The red hand in the O'Neill family crest is explained by several slightly differing legends. They share a common theme that begins with a promise of land to the first man that is able to sail or swim across the sea and touch the shores of Ireland. Many contenders arrive, including a man named O'Neill, who begins to fall behind the others. Using his cunning, O'Neill cuts off his left hand and throws it onto the beach before the other challengers are able to reach shore, thus technically becoming the first of them to touch land and wins all of Ireland as his prize.
However, the legends seem to originate in the seventeenth century, several many centuries after the red hand was already borne by the O'Neill families.
Learn more about the O'Neills
The Framed Irish Family Name History, (#1760) has more information on the O'Neill surname. There is a wide selection of O'Neill coat of arms products at The Irish Rose. Please visit the Irish Coat of Arms page.
Visit an O'Neill pub in Ireland
There is at least one pub in Ireland named for O'Neills. O'Neill's Bar & Steakhouse is in Maynooth, County Kildare, serving patrons since 1912. Visit the O'Neills in Maynooth the next time you're abroad.
If you can't visit in person, our personalized pub gifts are the next best thing!
Notable people named O'Neill
A
Alan O'Neill (footballer born 1957), (born 1957), an Irish football player
Alan O'Neill (footballer born 1973), (born 1973), an Irish football player
Alexander O'Neal (born 1953), American musician
Alexandre O'Neill, (1924–-1986), a Portuguese writer
Amber O'Neal (born 1974), American professional wrestler
Amy O'Neill, (born 1971), an actress/performer
Ana María O'Neill, an educator, author and advocate of women's rights
Andrew O'Neill, (born 1979), an English vegan, anarchist, transvestite, stand-up comedian, musician and writer
Anthony O'Neill, (born 1964), an Australian fiction writer
April O'Neil, a fictional character in the Mirage Studios franchise Teenage Mutant Ninja Turtles
Arthur Joseph O'Neill, (born 1917), an American bishop of the Roman Catholic Church.
Arthur O'Neill, (1876-–1914), was an Irish Ulster Unionist Party politician
Austin O'Neill, (born 1982) is an Irish football player
B
Bernie O'Neill, an American politician
B.F. O'Neal, Jr. (1922–-2004), Louisiana businessman Republican politician
Bill O'Neill, (1880–-1920), a Canadian-born Major League Baseball player
Billy O'Neill, (1878-–1955), a Welsh international rugby union player
Billy O'Neill (footballer), an Irish professional footballer
Brendan O'Neill (businessman), (born 1948), a British business executive
Brendan O'Neill (journalist), an English journalist
Brian O'Neill (ice hockey b. 1929), a Canadian executive within the National Hockey League
Brian O'Neill (ice hockey b. 1988), American ice hockey player
Brian O'Neill (1574), chief of the O'Neills of Clanaboy, surrendering his title to Sir Philip Sidney for a knighthood in 1567
Brian O'Neill (superintendent), (1941–2009), an American superintendent of the Golden Gate National Recreation Area
Buckey O'Neill, (1860–-1898), an American soldier, sheriff, newspaper editor, miner, politician, gambler and lawyer
Byron O'Neill, (born 1970), an American artist
C
Calvin O'Neal (b. ?), American football linebacker
Carol O'Neal (born 1948), American model and Playboy magazine's Playmate of the Month in July 1972
Charles Duncan O'Neal (1879–-1936), Barbados politician and physician
Charles O'Neal (1904-–1996), American film and television screenwriter
Connor O'Neill, a fictional Northern Irish character in the Australian soap opera Neighbours
C. William O'Neill, (1916-–1978), an American politician
Carlos O'Neill, (1760-–1835), a titular head of the Clanaboy O'Neill dynasty
Cecily O'Neill, authority on Process drama and the arts in education
Charles Gordon O'Neill, (1828-–1900), an Australasian engineer, inventor, parliamentarian and philanthropist
Charles H. O'Neill, (c.1800-–1897), an Irish-born American politician and mayor
Charles O'Neill (Pennsylvania politician), (1821-–1893), an American politician
Charles O'Neill, 1st Earl O'Neill, (1779-–1841), a British politician, peer and landowner
Colm O'Neill (born 1964), (born 1964), an Irish sportsperson
Colm O'Neill (born 1988), (born 1988), an Irish sportsperson
Con O'Neill (actor), (born 1966), a British actor
Con O'Neill (diplomat), (1912-–1988), a British civil servant and diplomat
Conn (Constantine) O'Neill, a titular head of the Clanaboy O'Neill dynasty
D
Dave O'Neal (born 1937), American politician, former Lieutenant Governor of Illinois
Deltha O'Neal (born 1977), American football player
Dipika O'Neill Joti, (born 1977), a Turkish actor and model
Damian O'Neill, (born 1961), a lead guitarist in the pop-punk band, The Undertones
Dan O'Neill, (born 1942), an American underground cartoonist
Dan O'Neill (writer), an American journalist and writer
Daniel O'Neill (painter), (1920-–1974), an Irish Romantic painter
Daniel O'Neill (editor), an Irish-born American newspaper editor and owner
Daniel O'Neill (royalist), (c.1612-–1664), an Irish army officer, politician and courtier
Daria O'Neill, (born 1971), an American radio and television personality
Darren O'Neill, an Irish boxer
Davin O'Neill, an Irish professional footballer
Dennis O'Neill, (born 1948), a Welsh operatic tenor and recording artist
Dennis O'Neill, (manslaughter victim) (born 1932), a Welsh 13 year old boy murdered by his fosterparents
Dennis O'Neill (rugby league), a British professional rugby league footballer
Dermot O'Neill , several people
Diarmuid O'Neill, (1969-–1996), an English-born volunteer in the Provisional Irish Republican Army
Dick O'Neill, (1928-–1998), an American stage, film and television actor
Don O'Neill, a watercolorist and architect
Douglas F. O'Neill, (born 1968), an American Thoroughbred horse trainer
E
Eamon O'Neill (SDLP politician), (born 1944), Northern Irish nationalist politician in Northern Ireland
Eamonn O'Neill (Irish politician), (died 3 November 1954) was an Irish Cumann na nGaedhael and later Fine Gael party politician
Edward O'Neill, several people
Ed O'Neill, (born 1946), an American actor
Ed O'Neal, (born 1936), American musician, of the Dixie Melody Boys
Edward J. O'Neill, (1902-–1979), an American US Army officer
Edward L. O'Neill, (1903–-1948), an American politician
Edward O'Neill, 2nd Baron O'Neill, (1839-–1928), an Irish peer and politician
Eliza O'Neill, (1791 – 29 October 1872) was an Irish actress, later baronetess
Elizabeth O'Neill Verner, (1883-–1979) was an artist, author and lecturer
Ella O'Neill, the mother of playwright Eugene O'Neill and wife of actor James O'Neill
Emmett O'Neill, (1918-–1993), an American Major League Baseball pitcher
Eric O'Neill, (born 1973), an American former American FBI operative
Eugene M O'Neill, (1850–-1926), an Irish-born American lawyer and newspaper owner
Eugene O'Neill (hurler), (born 1978), an Irish sportsperson
Eugene O'Neill, (1888-–1953), an American playwright, and Nobel laureate in Literature
Eunan O'Neill, (born 1982), a Northern Irish television presenter
Evan O'Neill Kane, (1861-–1932), a surgeon working in Pennsylvania, USA
Edward Asbury O'Neal (1818–-1890), American Confederate general during the American Civil War
Emmet O'Neal (1853-–1922), American Democratic politician who was Governor of Alabama
F
Frank O'Neal, American cartoonist
Frederick O'Neal (1905 — 1992), American actor and television director
Fabián O'Neill, (born 1973), a Uruguayan football midfielder
Felim O'Neill of Kinard, an Irish nobleman who led the Irish Rebellion of 1641 in Ulster
Francis O'Neill, (1848–1936), an Irish-born American police officer
Frank "Buck" O'Neill, (1875–1958), an American head football coach
Frank O'Neill (footballer), (born 1940), an Irish footballer
G
George O'Neill (English footballer)
Griffin O'Neal (born 1964), American actor
H
Henrique O'Neill, 1st Viscount of Santa Mónica,
I
Ivan O'Neal, Vincentian political leader
J
Jack O'Neill, a fictional character in the Canadian-American SyFy television series Stargate SG-1
Jamie O'Neal (born Jamie Murphy, 1968), Australian country singer and songwriter
Jermaine O'Neal (born 1978), American NBA basketball player
Jim O'Neal (b. 1948), American blues expert, writer, record producer and record company executive
Joseph T. O'Neal, American politician
Johnny O'Neal, American jazz pianist
Jack O'Neill (baseball)
Jack O'Neill (businessman)
Jamie O'Neill (snooker player)
Jimmy O'Neill (footballer born 1931)
Jimmy O'Neill (footballer born 1941)
John Joseph O'Neill (UK politician)
John Joseph O'Neill (US politician)
K
Kathleen O'Neal Gear (born 1954), American writer

L
Leslie O'Neal (born 1964), American football player
M
Maston E. O'Neal, Jr. (1907–1990), American politician
Melinda O'Neal, American conductor of choral music
Mike O'Neal (born 1951), Kansas Republican politician
Maria O'Neill, Portuguese member of the Clanaboy O'Neill dynasty
Martin O'Neill, Baron O'Neill of Clackmannan
Martin O'Neill, Northern Irish footballer and manager
Michael O'Neill (politician)
N
Norman O'Neill (composer)
O
Onora O'Neill, Baroness O'Neill of Bengarve,
O'Neal Compton (born 1951), American film and television actor
O'Neill Donaldson, (born November 24, 1969 in Birmingham) is an English former footballer
O'Neill Spencer, (1909-–1944), a jazz drummer and singer
P
Patrice O'Neal (1969-–2011), American comedian
Peggy O'Neal, voice actress
Pete O'Neal (born 1940), American Black Panther Party member
Phelim O'Neill, 2nd Baron Rathcavan
R
Ralph Ambrose O'Neill, an American flying ace from World War I
Rebecca O'Neill, (born 1981), a New Zealander football player
Richard O'Neill, (born 1943), an Anglo-Irish author and editor
Richard W. O'Neill, (1898–-1982), an American soldier who received the Medal of Honor during World War I
Riley O'Neill, (born 1985), a Canadian soccer player
Robert J. O'Neill, (born 1936), a Chair of the International Academic Advisory Committee at the United States Studies Centre
Robert Torrens O'Neill, (1845–-1910), an Irish Unionist politician
Robin O'Neil, British historian
Rose O'Neill, (1874-–1944), an illustrator
Ryan O'Neill (American soccer player), (born 1978) an American soccer midfielder
Ryan O'Neill (Northern Irish footballer), (born 1990), a Northern Irish footballer
Ralph T. O'Neal, British Virgin Islands politician
Reagan O'Neal, one of several pseudonyms of James Oliver Rigney, Jr (born 1948), American writer
Ron O'Neal (1937–-2004), American actor, director and screenwriter
Rose O'Neal Greenhow (1817–-1864), Confederate spy
Ryan O'Neal (born 1941), American actor
S
Séamus Ó Néill, (1910–-1986), an Irish writer
Shane Ó Neill, (c.1530-–1567), an Irish chief of the O'Neill clan of Ulster in the mid 16th century
Shaquille O'Neal (born 1972), American basketball player
Stan O'Neal, manager of Merrill Lynch
Steve O'Neal (born 1946), American football punter
Seán O'Neill, (born 1938), a Northern Irish sportsperson.
Sean O'Neill (table tennis), an American table tennis player and coach
Sean O'Neill, 3rd Earl of Tyrone
Shane O'Neill (hurler), (born 1986), an Irish sportsperson
Sharon O'Neill, (born 1952), a New Zealander singer-songwriter and pianist
Sid O'Neill, an Australian rules footballer
Simon O'Neill, (born 1971), a New Zealand-born operatic tenor
Stephen O'Neill, (born 1980), an Irish Gaelic footballer
Steve O'Neill, (1891-–1962), an American catcher, manager, coach and scout in Major League Baseball.
Steve O'Neill (owner), (1899–-1983), an American owner of a professional baseball team.
Steve O'Neill (rugby league), a professional rugby league footballer
Susie O'Neill, (born 1973), an Australian former competitive swimmer
T
Tara Lynne O'Neill, a TV presenter
Ted O'Neill, a Dean of Admissions at the University of Chicago.
Terence O'Neill, Baron O'Neill of the Maine, (1914–1990), the fourth Prime Minister of Northern Ireland.
Terry O'Neill (feminist), (born c.1953), an American feminist attorney, professor and activist for social justice.
Terry O'Neill (martial artist), an actor
Terry O'Neill (photographer), (born 1938), an English photographer
Thomas Newman O'Neill, Jr., (born 1928), an American federal judge
Thomas O'Neill (journalist), (1904-–1971), an American journalist
Thomas O'Neill (politician), (1882–-1965), Canadian politician
Thomas P. O'Neill III, (born 1945), leader of a public relations and government affairs firm
Tim O'Neill (Canadian football), (born 1979), a Canadian football player
Timothy O'Neill (soccer), (born 1982), American soccer player
Tip O'Neill, (1912-–1994), an American politician
Tip O'Neill (baseball), (1858-–1915), a Canadian left fielder in Major League Baseball
Tom O'Neill (ice hockey), (born 1923), a professional ice hockey player
Tommy O'Neill, (born 1955), a Scottish football midfielder
Tony O'Neill, a New York based musician and author
Tatum O'Neal (born 1963), American actress
Tirlough Brassileagh Ó Neill, the son of Phelim Caoch O'Neill, Prince of the Cenél nEógain
Turlough Luineach Ó Neill, (1532–-1595), an Irish earl of the Clan-Connell, inaugurated as the King of Tyrone
Ty O'Neal (born 1978), American actor
W
Ward O'Neill, (born 1951), an Australian illustrator, caricaturist and cartoonist
Wes O'Neill, (born 1986) a Canadian ice hockey player
Willa O'Neill, a New Zealander actress
William O'Neill (Connecticut politician), (1930-–2007), an American Governor of Connecticut
William O'Neill (Ohio jurist), (born 1947), an American lawyer, jurist and appellate judge
William O'Neill, 1st Baron O'Neill, (1813-–1883), an Anglo-Irish hereditary peer, clergyman and musical composer
Y
Yvonne O'Neill, (born 1936), Canadian politician
Save