O'Donnell Name History
O'Donnell Coat of Arms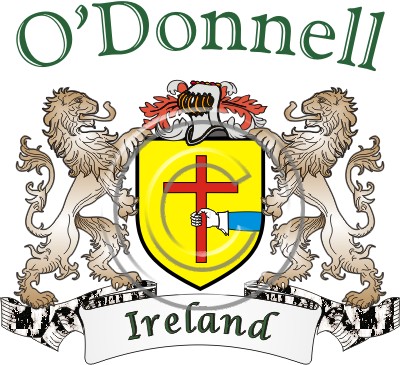 O'Donnell (Irish: Ó Dónaill or Ó Domhnaill) is derived from the forename Domhnall (meaning "world ruler"). The O'Donnells were an ancient and powerful Irish family, kings, princes, and lords of Tír Chonaill (rendered in English as Tyrconnell or Tyrconnel, known today as County Donegal) in early times, and the chief allies and sometimes rivals of the O'Neills in Ulster.
The O'Donnell motto is "In Hoc Signo Vinces" which means "Victorious with the Sign of the Cross."
Variant spellings of the Irish surname O'Donnell include O'Donald, O'Donle, O'Donall, and others.
How to find out more about the O'Donnell family crest
We are proud to offer two items that may shed more light on the O'Donnell family coat of arms and history in Ireland. Our Framed Irish Family Name History (#1760) and Framed Irish Coat of Arms & Family History (#1700) provide more details about the O'Donnell family in Ireland. These beautiful framed documents will be treasured in the O'Donnell family for years to come.
Find other O'Donnell coat of arms products on the Irish Coat of Arms page.
The O'Donnell pubs in Ireland
We found a number of pubs that bear the O'Donnell family name in Ireland. Don't forget to visit the next time you go.
If you can't visit in person, our personalized pub gifts are the next best thing!
Notable people named O'Donnell
Academia
Edward J. O'Donnell (1909-1986), President of Marquette University (1948-1962)
Guillermo O'Donnell, Argentinian academic
Hugo O'Donnell, Duke of Tetuan, Spanish naval historian, and Knight of Malta
James J. O'Donnell, classical scholar and Provost of Georgetown University
Patrick Denis O'Donnell, (1922-2005), Irish military historian
Entertainment and the arts
Cathy O'Donnell, American actress, originally Ann Steely
Chris O'Donnell, American actor
Daniel O'Donnell (singer), Irish musician
Heather O'Donnell, American concert pianist
Keir O'Donnell, Australian actor living in Los Angeles
Lawrence O'Donnell, American television host of The Last Word with Lawrence O'Donnell, political analyst and writer
Martin O'Donnell, Audio Director for Bungie Studios
Michael O'Donnell, British physician and broadcaster
Rosie O'Donnell, American actress and television hostess
Steve O'Donnell, American television scriptwriter
Steven O'Donnell (actor, presenter), Australian television presenter and actor
Journalism
Norah O'Donnell, American journalist
Kelly O'Donnell, American journalist
Literature
Elliott O'Donnell, Irish author
Lisa O'Donnell, Scottish writer
Mietta O'Donnell (1950-2001), Australian restaurateur and food writer
Peadar O'Donnell, Irish political activist and writer
Peter O'Donnell, British fiction writer
Terence O'Donnell, American writer
Medicine
Barry O'Donnell, Irish surgeon
Pacho O'Donnell, Argentinian psychoanalyst
Nobility
Calvagh O'Donnell, (d. 1566), The O'Donnell, 22nd Chieftain, and Lord of Tyrconnell
Elizabeth O'Donnell, (1604-c.1630), 1st Countess of Fingall
Henry Joseph O'Donnell, Count of La Bisbal, (1769-1834), Irish-Spanish nobleman, Spanish general
Hugh O'Donnell, 2nd Earl of Tyrconnell (1606-1642)
Manus O'Donnell, The O'Donnell, 21st Chieftain, King of Tyrconnell, and biographer of St Colmcille
Maximilian Karl Lamoral O'Donnell, Hiberno-Austrian Count, saved life of Emperor Franz Josef I
Niall Garve O'Donnell, (1569 - 1626)
Red Hugh O'Donnell I, The O'Donnell, Prince of Tyrconnell
Red Hugh O'Donnell II, (1572-1601), The O'Donnell, 24th Chieftain, Prince of Tyrconnell
Rory O'Donnell, 1st Earl of Tyrconnell, (1575-1608)
Politics
Christine O'Donnell, American politician and social and political commentator
Daniel O'Donnell (politician), American legislator from the state of New York
Francis Martin O'Donnell, Irish UN diplomat and Knight of Malta
Frank Hugh O'Donnell, 1846-1916, nationalist MP
Hugh Roe O'Donnell, Irish Rebel
James O'Donnell (politician), (1840 - 1915), American politician from Michigan
Kenneth O'Donnell, American politician
Lawrence O'Donnell, American political analyst, writer, and host of The Last Word with Lawrence O'Donnell
Leopoldo O'Donnell, (1809-1867), 1st Duke of Tetuan, and former Prime Minister of Spain
Phil O'Donnell, IRA volunteer from Derry
Sir Gus O'Donnell, Cabinet Secretary (chief civil servant), British Government
Thomas E. O'Donnell, activist in the New York Draft Riots
Thomas O'Donnell, M.P., (1871-1943), Irish Nationalist MP for West Kerry
Tom O'Donnell, former Irish politician
Religion
Cletus F. O'Donnell, American Roman Catholic bishop
Edmund O'Donnell, Irish Jesuit
Edward Joseph O'Donnell, American Roman Catholic bishop
James O'Donnell (organist), current organist of Westminster Abbey
Patrick O'Donnell, (1856-1927), Cardinal Archbishop of Armagh
Sport
Danny O'Donnell, English footballer
Gary O'Donnell, Australian-rules footballer
Luke O'Donnell, Australian International Rugby League Player
Neil O'Donnell, former Pittsburgh Steelers quarterback
Phil O'Donnell, Scottish footballer
Sean O'Donnell, Canadian Hockey Player