O'Connor Name History
O'Connor Irish Coat of Arms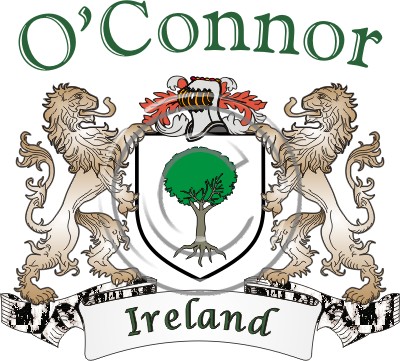 O'Connor is a surname of Irish origin, originally meaning Ó Conchobhair ("grandson/descendant of Conchobar"). A more modern Irish spelling is Ó Conchúir.
There were at least five unrelated Ó Conchobhair families originally, located in Derry, Sligo/Roscommon (Connachta), Offaly/Laoise (Uí Failghe), Clare (Corco Modhruadh) and Kerry (Ciarraige).
Variant spellings of the Irish surname O'Connor include O'Conner, Connor, Conner, Connors, O'Conor, O'Connors, Conor, Concair, O'Connars, and many more.
The O'Connor family crest and coat of arms
For detailed O'Connor name history information, our Framed Irish Family Name History (#1760) has more information on the O'Connor family origins and surname.
The Irish Rose has a large selection of O'Connor coat of arms items. Items featuring the Irish counties connected to the O'Connors include Irish County mugs and Irish county coat of arms flags.
Visit O'Connor Pub in Ireland
There's at least one pub in Ireland that bears the O'Connor name. Make sure you visit O'Connor's Guesthouse & Pub in Cloghane, County Kerry on your next trip to Ireland.
If you don't have any trips planned, our personalized pub gifts are the next best thing!
Notable people named O'Connor
Medieval kings
Cathal Crobhdearg Ua Conchobair (1153–1224), King of Connacht
Conchobar Máenmaige Ua Conchobhair (died 1189) last independent King of Connacht
Feidhlim Mac Aoidh Ó Conchobhair, 1293–1316, King of Connacht
Ruaidhrí Ó Conchobhair (died 1198), last High King of Ireland (also known as Rory O'Connor)
Toirdealbhach Mac Ruaidhrí Ó Conchobhair (1088–1156), High King of Ireland (also known as Turlough O'Connor)
Law and politics
Arthur O'Connor (MP) (1844–1923), Member of Parliament for Queen's County
Basil O'Connor (1892–1972), American lawyer, co-founded National Foundation for Infantile Paralysis with Franklin D. Roosevelt
Batt O'Connor, Irish builder, who worked for the revolutionary Michael Collins
Bob O'Connor (mayor) (1944–2006), Mayor of Pittsburgh, Pennsylvania
Dennis O'Connor (judge), Associate Chief Justice of Ontario
Edmund O'Connor (1848–1898), President pro tem of the NY State Senate 1895
Feargus O'Connor (1794–1855), Irish Chartist leader
Frank D. O'Connor (1909–1992), New York politician
Frank O'Connor (1903–1966), Canadian politician
Gavan O'Connor (b. 1947), Australian politician
Gordon O'Connor (b. 1939), Canadian politician
James O'Connor (Louisiana politician) (1870–1941), American politician
John O'Connor (Canadian politician) (1824–1887), Canadian politician
Joseph O'Connor, Irish author
Joseph O'Connor (politician), Irish revolutionary, soldier and politician
Joseph O'Conor (1916–2001), Irish actor
Sir Kenneth O'Connor (b. 1896), British Judge
Larry O'Connor (b. 1956), Canadian politician
Máireag Bean Uí Conchobhair Fáilghe, (died 1451) Queen, and patron of the arts
Maureen O'Connor (b. 1951), Lieutenant Governor of Ohio and member of the Ohio Supreme Court
Maureen O'Connor (California politician) (b. 1946), Mayor of San Diego, California, from 1985—1992
Matt O'Connor (activist), founder of the fathers' rights pressure group Fathers 4 Justice
Michael A. O'Connor, Mayor of Berwyn, Illinois
Michael O'Connor (Australian politician) (1865–1940), Australian politician
Patrick J. O'Connor, Chicago alderman
Richard O'Connor (politician) (1851–1912), Australian politician and jurist
Sandra Day O'Connor (b. 1930), Associate Justice of the United States Supreme Court
T.P. O'Connor (1848–1929), Irish journalist and politician
Terence O'Connor (1891–1940), British politician
Religion
Denis T. O'Connor (1841-1911) Roman Catholic Archbishop of Toronto
James O'Connor (bishop) (1823-1891), Bishop of the Roman Catholic Diocese of Omaha
John Joseph O'Connor (1920-1999), Roman Catholic Archbishop of New York City
Michael O'Connor (bishop), Bishop of the Roman Catholic Diocese of Pittsburgh
Patrick Edward O'Connor (1932-2014), New Zealand Roman Catholic priest
William Patrick O'Connor, Bishop of the Roman Catholic Diocese of Superior (1942–1946)
Military
Arthur O'Connor, various including:
Arthur O'Connor (United Irishman) (1763–1852), United Irishmen and French General
Bryan D. O'Connor (b. 1946), astronaut
Luke O'Connor (1831–1915), first recipient of the Victoria Cross and British General
Richard O'Connor (1889–1981), British General
Rory O'Connor, Irish revolutionary soldier, who commanded Four Courts garrison
Science and academia
C. Y. O'Connor (1843–1902), Irish engineer
David O'Connor (Egyptologist), Australian egyptologist
J. Dennis O'Connor, American academic administrator
Johnson O'Connor (1891–1973), American psychometrician
Arts
Brian O'Connor, American bassist
Caroline O'Connor (b. 1962), Australian singer, dancer and actress
Carroll O'Connor (1924–2001), American actor
Claudio O'Connor (b. 1963), Argentinian singer
Des O'Connor (b. 1932), British singer and TV Comedian
Donald O'Connor (1925–2003), American actor and entertainer
Ella Marija Lani Yelich-O'Connor, more known as Lorde (b. 1996), New Zealand singer-songwriter
Erin O'Connor (b. 1978), British supermodel
Flannery O'Connor (1925–1964), American author
Frank O'Connor (1903–1966), Irish author
Frank O'Connor (1881–1959), American actor, director, and screenwriter
Frank O'Connor (Charles Francis O'Connor) (1897–1979), American actor and husband of Ayn Rand
Gavin O'Connor (b. 1964), American film director, screenwriter, producer, playwright and actor
Gavin O'Connor (b. 1972), Irish actor
Hazel O'Connor (b. 1955), English singer and actress
James O'Connor (drummer), American drummer
Jim O'Connor, American actor
Joe O'Connor (actor), American actor
Joseph O'Connor (b. 1963), Irish novelist
Mark O'Connor (b. 1961), American fiddler
Raymond O'Connor (b. 1952), American character actor
Renée O'Connor (b. 1971), American actress
Sinéad O'Connor (b. 1966), Irish singer-songwriter
Una O'Connor (actress) (1880–1959), Irish character actress
O'Connor (band), Argentinian band
Sport
Adrian O'Connor (b. 1978), Irish backstroke swimmer
Cian O'Connor (b. 1979), Irish equestrian
Bernard O'Connor (b. 1979), Gaelic footballer
Brian O'Connor (baseball coach), University of Virginia baseball head coach
Christy O'Connor Jnr (1948–2016), Irish golfer
Christy O'Connor Snr (b. 1924), Irish golfer; uncle of Christy Jnr
Dan O'Connor (baseball) (1868–1942), Canadian baseball player
David O'Connor (equestrian) (b. 1962), American equestrian
Donncha O'Connor (b. 1981), Cork All Ireland Senior Medalist
Gary O'Connor (b. 1974), Scottish football goalkeeper
Garry O'Connor (b. 1983), Scottish footballer (Hibernian, Lokomotiv Moscow, Birmingham City, Scotland)
James O'Connor (footballer born 1979) (b. 1979), Irish footballer
James O'Connor (footballer born 1984) (b. 1984), British footballer
James O'Connor (rugby) (b. 1990), Australian rugby union player
Jamesie O'Connor (b. 1971), Irish hurler
Jennifer O'Connor (netball) (b. 1984), Australian netball player
Karen O'Connor (b. 1958), American equestrian
Mary O'Connor (athlete) (b. 1955), New Zealand long-distance runner
Michael O'Connor (rugby) (b. 1960), Australia rugby union and rugby league player
Michael O'Connor (footballer born 1987), Northern Ireland football (soccer) player
Michael O'Connor (baseball player) (b. 1980), Major League Baseball player
Patrick O'Connor (athlete), Jamaican sprinter
Pat O'Connor (auto racer) (1928–1958), Formula One driver
Paul O'Connor (Gaelic footballer), Irish Gaelic footballer
Paul O'Connor (skier), Irish skier
Peter O'Connor (athlete) (1872–1957), Irish athlete
Red O'Connor, American football player
Tommy O'Connor, Irish footballer
Tony O'Connor (rower), Irish rower
William Joseph O'Connor (1862–1892), Canadian professional oarsman
Save
Save
Save