O'Connell Name History
O'Connell Coat of Arms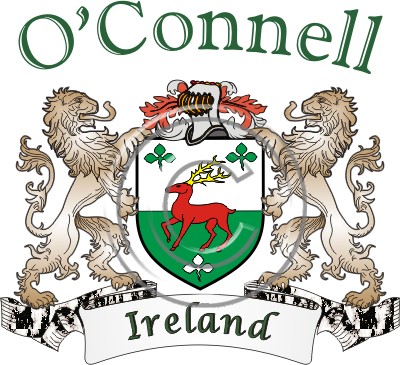 O'Connell is a surname of Irish origin. It is an Anglicisation of the Gaelic Ó Conaill, meaning "descendant of Conall." The personal name Conall is possibly composed of the elements con (from cú meaning "hound" or "wolf") and gal (meaning "valour").
The O'Connell family, principally of Derrynane, are a Gaelic Irish noble family of County Kerry in Munster. The principal seat of the senior line of the family was Derrynane House, now an Irish National Monument.
Variant Spellings of the Irish surname O'Connell include Connell, Cannell, Connall, Conell, Connill, Connull, Connel, Connal, Canell, Cannel, O'Conell, Cannell, Cannel, O'Cannall, O'Conell, among others.
The O'Connell family crest and coat of arms
The O'Connell coat of arms features a its buck and three shamrocks on a field of green and white. For detailed O'Connell name history information, our Framed Irish Family Name History (#1760) has more information on the O'Connell family origins and surname.
The Irish Rose has a large selection of O'Connell coat of arms items. Items featuring the Irish counties connected to the O'Connells include Irish County mugs and Irish county coat of arms flags.
Looking for O'Connell pubs in Ireland?
We found a couple of pubs in Ireland with your family name. Be sure to visit one or both on your next trip to the Emerald Isle.
If you can't visit and O'Connell Irish pub in person, our personalized pub gifts are the next best thing!
Notable people named O'Connell
Aaron D. O'Connell, Creator of the world's first quantum machine
Anthony O'Connell, American Catholic bishop
Arthur O'Connell (1908-–1981), American actor
Bill O'Connell, (1957–), American photographer
Carlos O'Connell, Irish decathlete
Charles O'Connell - born in 1900, musician and conductor of the Philadelphia Orchestra, recording conductor for RCA Victor (many original symphonic recordings), and author of 3 books about the music industry.
Charlie O'Connell, American actor
Christian O'Connell, English radio DJ
Dáithí Ó Conaill (David O'Connell) (1938-–1991), IRA member
Daniel O'Connell (1775-–1847), Irish politician
Daniel P. O'Connell, American politician from New York
David O'Connell (North Dakota), American politician
Bishop Denis J. O'Connell, American Catholic bishop
Eileen O'Connell (Irish writer)
Helen O'Connell (1920-–1993), American singer, actress, and dancer
Jack O'Connell (born 1951), California politician
Jerry O'Connell, American actor
Jock O'Connell, American economist and writer
Joe M. O'Connell, American writer
John M. O'Connell (1872-–1941), U.S. Representative from Rhode Island
John O'Connell (MP) (1801–-1858), Irish politician, son of Daniel O'Connell
John O'Connell (b. 1930), Irish politician
Joseph F. O'Connell (1872–-1942), U.S. Representative from Massachusetts
Martin O'Connell (footballer)
Martin O'Connell (Canadian politician)
Maura O'Connell, singer
Max O'Connell (born 1936), Australian cricket umpire
Mick O'Connell (born 1937), Irish footballer
Mike O'Connell, hockey player and general manager
Paddy O'Connell, British TV presenter
Patrick O'Connell (actor), Irish actor
Patrick O'Connell (Irish footballer)
Patrick O'Connell (poet), Canadian poet
Paul O'Connell (born 1979), Irish rugby player
Stephen C. O'Connell (1916-–2001), Florida Supreme Court justice (1955-–1967), president of the University of Florida (1967-–1973)
Taaffe O'Connell, actress
Terri O'Connell, American motor racing driver
Thomas J. O'Connell (1882-–1969), Irish politician
William Henry O'Connell, American Catholic archbishop and cardinal