Nolan Name History
Nolan Irish Coat of Arms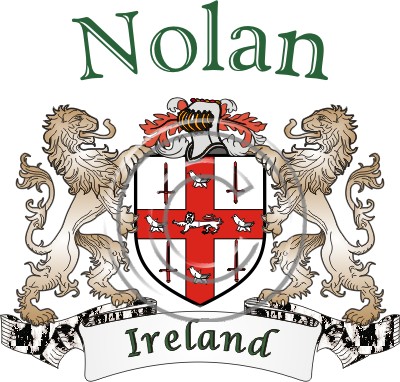 Nolan is among the fifty leading names in Ireland. Most Nolans in Ireland today can be found in the Province of Leinster and in County Cork. Nolan is an Irish surname and an Irish Clan. Nolan derives from Ó Nualláin, a sept that was located in County Carlow.
The Nolan motto
The Nolan motto is "Cor unum, via una," which is Latin for, "One heart, one road."
Variant spellings of the Irish surname Nolan include O'Nolan, Nowlan, Knowlan, Noland, among others.
Learn more about the Nolan family name
For more information about the Nolans, see the Framed Irish Family Name History, (#1760).
The Irish Rose offers many Nolan coat of arms products, from clothing to glassware to framed coat of arms heirlooms. Please visit the Irish Coat of Arms page.
Find Nolan's Pub in Ireland
We located a Nolan's Pub in Rosscarbery, County Cork. Painted in cheerful yellow and red and close to the water, it would be the perfect backdrop for a Nolan family photo.
If you can't make it there in person, our personalized Nolan pub gifts are the next best thing!
Notable people named Nolan
Albert Nolan (born 1934), South African Roman Catholic theologian
Anna Nolan (born 1970), Irish television presenter
Anthony Nolan (1972-1979), for whom the Anthony Nolan UK charity was formed
Barry Nolan, American television presenter
Bernadette Nolan (born 1960), Irish entertainer and actress
Bob Nolan (1908-1980), Canadian singer-songwriter and actor
Brandon Nolan (born 1983), retired NHL ice hockey player
Brian Nolan (1932-2006), Canadian journalist and author
Catherine Nolan, American politician
Christopher Nolan (author) (born 1965), Irish poet
Christopher Nolan (born 1970), film director
Clive Nolan, British musician and producer
Coleen Nolan (born 1965), English television presenter
David Nolan (author) (born 1946), American non-fiction writer
David Nolan (Libertarian Party), American politician, founder of the Libertarian Party
Deanna Nolan (born 1979), American basketball player
Dennis E. Nolan (1872-1956), U.S. Army general
Dick Nolan (football) (born 1932), American football player & coach
Dick Nolan (musician) (1939-2005), Canadian musician
Eddie Nolan (born 1988), Irish footballer
Faith Nolan (born 1957), Canadian musician and social activist
Francis Nolan, British phonetician
Frederick Nolan (born 1931), British editor and writer
Gary Nolan (baseball player) (born 1948), American baseball player
Gary Nolan (radio host) (born 1954), American politician and radio host
Graham Nolan, comic book artist
Henry Grattan Nolan (1893-1957), Canadian lawyer
Jeanette Nolan (1911-1998), American actress
Jerry Nolan (1946-1992), American drummer
Joe Nolan (born 1951), American baseball player
John Nolan (musician) (born 1978), American singer and musician
John Gavin Nolan, American Roman Catholic bishop
John Philip Nolan (1838-1912), Irish landowner and politician
Jonathan Nolan (born 1976), British screenwriter
Jonathan Nolan (born 1989), Irish 'Never-Say-Die' Debating Champion, of Clonsilla, Dublin.
Jordan Nolan (ice hockey) (born 1989), Canadian professional ice hockey player
Joseph A. Nolan, Philippine-–American War Medal of Honor recipient
Joseph Nolan Irish politician
Kevin Nolan (born 1982), English footballer of Irish and Dutch descent
Leo Nolan (born 1972), American boxer
Lloyd Nolan (1902-1985), American actor
Louis Edward Nolan (1818-1854), Canadian-British soldier
M. J. Nolan (born 1951), Irish politician
Mae Nolan (1886-1973), American politician
Martin Nolan, American journalist
Mary Nolan (1905-1948), American actress
Michael N. Nolan, Irish-American politician
Michael Nolan, Baron Nolan, British judge
Mike Nolan (born 1954), Irish singer
Mike Nolan (born 1959), American football player & coach
Mike Nolan, principal of Middle Park State School
Monica Nolan (1913-1995), American tennis player
Nicholas M. Nolan (1835-1883) US Soldier during the American Civil War & Indian Wars
Norma Nolan (born c.1943), Argentinian beauty queen
Owen Nolan (born 1972), Canadian ice hockey player
Pat Nolan, Canadian hockey player
Pat Nolan (born 1950), American lawyer, politician & activist
Patrick Nolan (1881–1941), Canadian politician
Philip Nolan (1771-1801), Irish-American confidence trickster
Richard Nolan (born 1943), American politician
Seán Nolan, Irish Sinn Féin politician
Sidney Nolan (1917-1992), Australian painter
Stephen Nolan (born 1973), Northern Irish radio and television presenter
Ted Nolan (born 1958), Canadian ice hockey player and coach
Tom Nolan (1921-1992), Irish politician
William F. Nolan (born 1928), American novelist
William I. Nolan (1874-1943), American politician