Murray Name History
Murray Irish Coat of arms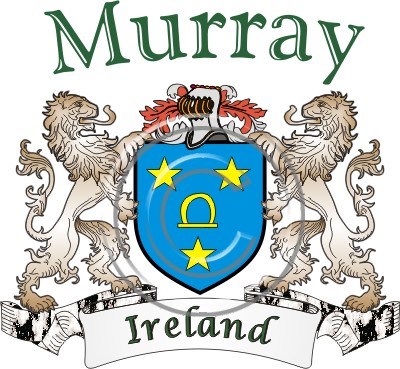 Murray is among the leading names in Ireland. Some Ulster Murrays have Scottish ancestry. Murray is both a Scottish and Irish surname. The Irish version derives from Ó Muireadhaigh. The Roscommon O'Muireadhaigh Sept anglicized their name to Murray in the 1600s.
The Scottish version is a common variation of the word Moray, an anglicisation of the medieval Gaelic word Muireb (or Moreb); the b here was pronounced as v, hence the Latinization to Moravia. These names denote the district on the south shore of the Moray Firth, in Scotland. Murray is a direct transliteration of how Scottish people pronounce the word Moray. The Murray spelling is not used for the geographical area, which is called Moray, but it became the commonest form of the surname, especially among Scottish emigrants, to the extent that the surname Murray is now much more common than the original surname Moray.
Variant Spellings of the Irish surname Murray include Murrey, Moray, Morey, Morrey, Morry, Murry, and many more.
Learn more about the Murray family name
For more information about the Murrays, see the Framed Irish Family Name History, (#1760).
The Irish Rose offers many Murray coat of arms products, from clothing to glassware to framed coat of arms heirlooms. Please visit the Irish Coat of Arms page.
Is there a Murray Pub in Ireland?
There is a Murray's Pub in Roscommon Town in County Roscommon. Visit them on Facebook at Murray's Bar Knockcroghery.
If you can't visit Murray's Pub in person, our personalized pub gifts are the next best thing!
Notable people named Murray
A
Adam Murray, English footballer
Al Murray, comedian
Albert Murray (writer) (born 1916), African American literary and jazz critic, novelist and biographer
Albert Murray, Baron Murray of Gravesend (1930–1980), British Labour Party politician, Member of Parliament 1964– 1970
Bert Murray (born 1942), English football player
Alexander Murray (1755-–1821), U.S. Navy officer, Revolutionary War
Alexander Murray (1816-–1884), U.S. Navy officer, Mexican-American and American Civil Wars
Alexander Murray (geologist) (1810–-1884), Scottish geologist
Alexander Murray (linguist) (1775-–1813), linguist and professor at Edinburgh University
Alexander Murray, 1st Baron Murray of Elibank (1870-–1920)
Alexander Murray, 6th Earl of Dunmore
Alexander Murray, 8th Earl of Dunmore
Alexander Hunter Murray (1818 or 1819–-1874), a Hudson's Bay Company fur trader and artist
Alexander Stuart Murray (1841-–1904), archaeologist
Aline Murray Kilmer, American poet
Allan Murray, Australian rules footballer
Alma Murray, (born 1854), actress
Sir Andrew Murray, Guardian of Scotland in 1332 and again from 1335 to 1338
Andrew Murray (botanist), (1812-–1878), Scottish botanist
Andrew Murray (campaigner and journalist), member of the Communist Party of Britain
Andrew Murray (children's writer), English children's writer
Andrew Murray (golfer) (born 1956), English golfer
Andrew Murray (minister) (1828-–1917), South African minister of religion, missionary, and author
Andrew Murray (politician), Australian politician, current member of the Australian Senate
Andrew Murray, 1st Viscount Dunedin
Andrew C. Murray, Texas state representative, 1893-–1895, 1903-–1905, and 1911-–1917
Andy Murray (ice hockey), Canadian ice hockey player, coach
Andy Murray (born 1987), currently the top-ranked British tennis player
Ann Murray, Irish mezzo-soprano
Anne Murray (born 1945), Canadian singer
Anne Murray, Duchess of Atholl
Anton Murray, South African cricketer
Antonio Murray, English football player
Antonio Murray (police officer), former Baltimore Police officer sentenced to 139 years in prison
Archibald Murray (1860-–1945), British general
Arthur Murray (1895-–1991), American dance instructor and businessman, married to Kathryn Murray
Arthur Murray, 3rd Viscount Elibank
Athol Murray, Canadian priest and high school president
Lady Augusta Murray
B
Barbara Murray, actress
Bert Murray (born 1942), English football player
Bill Murray (born 1950), American actor
Billy Murray (actor) (born 1941), British actor
Billy Murray (singer) (1877-–1954), American singer
Bob Murray (businessman), businessman and former chairman of Sunderland Football Club
Brady Murray, American ice hockey player
Brett Murray, South African artist
Brian Doyle-Murray, American comedian, screenwriter and actor
Bruce C. Murray, American planetary scientist
Bruce Murray (cricketer), New Zealand cricketer
Bruce Murray (soccer), American soccer player
Bryan Murray (ice hockey), Canadian ice hockey coach and executive
C
Chad Michael Murray (born 1981), American actor, former male fashion model and teen idol
Charlotte Murray, Duchess of Atholl (1731–-1805)
Cheryl Murray (born 1952), British actress
Chris Murray (born 1966), Canadian singer-songwriter and guitarist
Christian Murray, Canadian comedy writer
Clark Murray (born 1938), American sculptor
Colin Murray, Canadian ice hockey player
Conrad Murray (born 1953), personal physician of Michael Jackson
Craig Murray (born 1958), British commentator on government foreign policy and former diplomat
D
Daniel Murray (mathematician) (born 1862) Canadian mathematician
Daniel Alexander Payne Murray (1852–-1925), African American intellectual
Darren Murray (born 1974), Scottish footballer
Darrin Murray (born 1967), New Zealand cricketer
Dave Murray (musician) (born 1956), Iron Maiden guitarist
David Murray-Lyon (1890–-1975), officer in the Indian Army
Dee Murray (1946-–1992), British bassist, best known as a member of Elton John's original rock band
Denis Murray (journalist) (born 1951), British television journalist
DeMarco Murray, Dallas Cowboys running back
Denis Murray (athlete), Irish athlete at the 1908 Olympic Games in London
Deryck Murray (born 1943), former West Indies cricketer
Devon Murray (born 1988), Irish actor
Don Murray (clarinetist) (1904-–1929), American jazz musician
Don Murray (actor) (born 1929), American actor
Don Murray (writer) (1923-–2006), Pulitzer Prize winning writer for the Boston Herald
Donald Walter Gordon Murray (1894-–1976), Canadian surgeon
Douglas Murray (ice hockey) (born 1980), Swedish ice hockey player
Durno Murray (1925-–2009), Australian ornithologist
E
Ed Murray (Washington politician), politician from Washington State
Eddie Murray (born 1956), American baseball player
Eddie Murray (American football)
Edmund P. Murray (1930-–2007), American novelist and journlist
Edwin R. Murray (born 1960), American politician
Elaine Murray, Scottish politician
Eli Houston Murray, Governor of Utah Territory (1880-–1886)
Eoin Murray, Irish auto racing driver
Eunice Murray, housekeeper of Marilyn Monroe
Eustace Clare Grenville Murray (1824–-1881), English journalist
F
Francis Murray, mayor of Brisbane
Francis Edwin Murray, poet
Francis Joseph Murray, American mathematician known for his foundational work on functional analysis
Frank Murray, coach of the Virginia Cavaliers
Franny Murray, American football player
Frieda A. Murray, fantasy writer
G
Garth Murray, Canadian ice hockey player
Geoffrey Cushing-Murray, American songwriter
Gideon Oliphant-Murray, 2nd Viscount Elibank
Gilbert Murray, British intellectual
Gilbert Elliot-Murray-Kynynmound, 1st Earl of Minto
Glen Murray (ice hockey), Canadian ice hockey player
Glen Murray (politician) (born 1957), Canadian politician
Glenn Murray, English football player
Gerald R. Murray, 14th Chief Master Sergeant of the Air Force
Gordon Murray, designer of Formula One race cars
Gordon Murray, Sr., American attorney at law
Gordon Murray (puppeteer)
K. Gordon Murray, American film producer
Graham Murray, Australian rugby league player and coach
Graham Murray, Irish GAA all star
Grant Murray, Scottish professional footballer
Grover E. Murray, President of Texas Tech University (1966-–1976)
Guillermo Murray (born 1927), Argentine-Mexican actor and director
Guy Murray, American track/cross country coach and former marathon runner
H
Hannah Murray (born 1989), English actress
Harold James Ruthven Murray (1868-–1955), English chess historian
Harry Murray (1880-–1966), Australian Victoria Cross recipient
Henry Murray, (1893–-1988), American psychologist who developed the Thematic Apperception Test (TAT)
Herbert Harley Murray (1829-–1904), English colonial governor
Hubert Murray (1861-–1940), brother of Gilbert Murray
I
Iain Murray, theologian
Iain Murray (sailor), Australian olympic sailor
Ian Murray, Canadian politician
J
J. A. Murray (naturalist)
Jan Murray, American stand-up comedian
Janice Murray, English association footballer
Janet Murray, professor at the Georgia Institute of Technology
Jenni Murray, British journalist and broadcaster
Jennifer Murray, British pilot and the first woman to circumnavigate the world in a helicopter
Jillian Murray, an American Actress
Jim Murray (football), an American football executive
Jim Murray (musician), a San Francisco musician of the 1960s
Jim Murray (sportswriter) (1919-–1998), a sportswriter
Joan Murray, American poet
John Courtney Murray, American priest and theologian
John Stewart-Murray, 7th Duke of Atholl
John Stewart-Murray, 8th Duke of Atholl
Johnston Murray, Governor of Oklahoma
Jonathan Murray, television producer
Joseph Murray (1919-–2012), American plastic surgeon
Joe Murray (animator) (born 1961), creator of Rocko's Modern Life and Camp Lazlo
Joe Murray (baseball) (1920–2001), American baseball player
Joe Murray (boxer) (born 1987), British boxer
Joe Murray (cyclist) (born 1963), American cyclist
Joseph Philip Robert Murray (born 1943), Canadian Mounted Police commissioners
Junior Murray (born 1968), West Indian cricketer
K
Katharine Stewart-Murray, Duchess of Atholl
Kathryn Murray, American dance instructor, married to Arthur Murray
Keith Murray (ceramic artist)
Keith Murray (rapper)
Keith Murray (singer) (born 1978), lead vocalist for We Are Scientists
Keith Murray, Baron Murray of Newhaven (1903-–1993), British academic
L
Lee Murray (born 1977), a British mixed martial arts fighter of partial Moroccan descent.
Len Murray (Lionel Murray, Baron Murray of Epping Forest, 1922-–2004), British Trade Union leader
Lenda Murray (born 1962), American female bodybuilder
Les Murray (broadcaster)
Les Murray (poet)
Lindley Murray (tennis) (1892–-1970), American tennis player
M
Madalyn Murray O'Hair (1919-–1995), American atheist
Magnus Miller Murray (1787–-1838), Mayor of Pittsburgh, Pennsylvania
Margaret Murray (1863-–1963), British Egyptologist
Michael Murray (organist)
Mike Murray (cricketer)
Mike Murray (ice hockey)
Montolieu Oliphant-Murray, 1st Viscount Elibank
N
Neil Murray (Australian musician)
Neil Murray (British musician)
P
Patty Murray (Patricia Lynn Murray, born 1950), United States Senator
Pete Murray, Australian singer-songwriter
Pete Murray (disc jockey)
Peter Murray (Harvard Law School), Harvard Law professor
R
Raymond Murray, American Marine Corps officer
Red Murray, American baseball player
Rem Murray, Canadian ice hockey player
Richard Murray, British businessman
Rob Murray, Canadian ice hockey player
Robin Murray, British psychiatrist
Ronald Murray, American basketball player
Ronald King Murray, Lord Murray, Scottish politician and judge
Ruby Murray, Northern Ireland singer
Rupert Murray, film director
S
Scott Murray, Scottish rugby player
Stephen Murray, including:
Stephen Murray (actor) (1912–1983), British actor
Stephen O. Murray (born 1950), a sociologist, anthropologist scholar specialising in homosexuality