Moran Name History
Moran Coat of Arms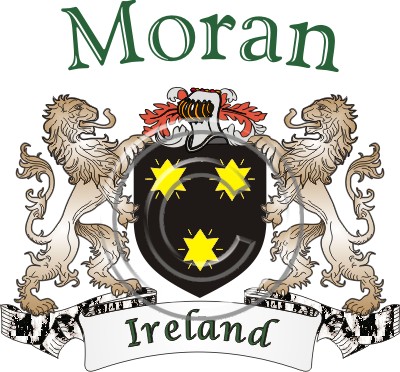 There are many different crests of Moran, all bearing 3 stars and the motto, Lucent in Tenebris, Latin for "They shine in darkness."Moran is a modern Irish surname and derived from membership of a medieval dynastic sept. The name means a "descendent of Mórán," translated as "big one."
The Morans in Ireland
Morans were a respected sept of the Uí Fiachrach dynasty in the western counties of Mayo and Sligo. In Ireland, where the name descended from the Gaelic, it is generally pronounced phonetically as "more-in." Elsewhere, pronunciation follows the French surname, Morant, anglicized to phonetically as "more-anne".
Most Morans in County Mayo are descended from the Ó Móráin sept whose ancient kingdom was in north Mayo, surrounding the modern town of Ballina. Following the Norman invasion, their territory was usurped by the Barretts and Burkes and the sept lost its central organization. The modern distribution of the surname within Mayo suggests that the Morans spread southwards and today are chiefly found in the central area of the county, particularly in the barony of Carra. There is also a small village in Monaghan named "Moran" meaning abode of "The Great One" the leader of the Celts.
Variant spellings of the Irish surname Moran may include O'Moran, Murrin, Murran and others.
Learn more about the Moran family name
For more information about the Morans, see the Framed Irish Family Name History, (#1760).
The Irish Rose offers many Moran coat of arms products, from clothing to glassware to framed coat of arms heirlooms. Please visit the Irish Coat of Arms page.
Is there a Moran Pub in Ireland?
We found more than one Moran Pub in Ireland. Make sure you visit one of them on your next trip to Ireland!
Notable people named Moran
Adolfo Moran, a Spanish famous architect
Bill Moran
Brad Moran (ice hockey), a Canadian hockey player
Brad Moran (AFL), an Australian rules football player
Brendan Moran, an American television personality
Bugs Moran, a Chicago prohibition-era gangster
Caitlin Moran, a British writer and journalist
Charley Moran, a baseball player and football coach
Chris Moran, a Royal Air Force officer
Chris Moran (ice hockey), an American ice hockey player
Colin Moran, a Dublin Gaelic footballer
Crissy Moran, an American former pornographic actress & model
Daniel Keys Moran, a science fiction writer
Denis Moran (Gaelic footballer), an Irish Gaelic football player
Dennis Moran (computer criminal), an American computer hacker
Dennis Moran (rugby league), a British rugby league footballer
Diana Moran, a British model
Dylan Moran, an Irish comedian, star of Black Books
Edward Moran, an American artist
Edward C. Moran, Jr., an American politician
Erin Moran, an American actress
Frank Moran, a Heavyweight boxer, actor
Hap Moran (Francis Dayle), a professional football player
Hugh Moran, a Manitoban politician
Ian Moran, a professional hockey player
James Moran (writer), a British screenwriter
Jason Moran (1967–-2003), an Australian criminal
Jason Moran (musician), a jazz pianist
Jerry Moran (born 1954), a United States Representative from Kansas
Jim Moran (automotive), an American automotive entrepreneur and philanthropist
Jim Moran (born 1945), a United States Representative from Virginia
Jim Moran (publicist), a publicist
Joe Moran (social historian)
John Moran (composer) (born 1965), an American composer
John Moran (cellist), an American musician and musicologist
John E. Moran (1856–-1930), a soldier
Judy Moran, a mother
Julie Moran, a United States television personality
Kenneth Moran, a New Zealand boxer
Kevin Moran (footballer) (born 1956), an Irish footballer
Kevin Moran (hurler)
Lewis Moran (1941-–2004), an Australian criminal
Lindsay Moran, a former Central Intelligence Agency officer
Lois Moran, an American actress
Lord Moran, Winston Churchill's physician
Malcolm Moran, an American sportswriter
Margaret Moran (born 1955), a British politician
Maria Margarita Moran-Floirendo, a former Miss Universe
Mark Moran (criminal) (1964-–2000), an Australian criminal
Matt Moran, an Australian Chef
Mayo Moran, the dean of the Faculty of Law of the University of Toronto
Michael P. Moran, an American actor and playwright
Michelle Moran, an American author
Mike Moran (music producer) (born 1948), an English keyboard musician and producer
Nancy Moran, an American singer and songwriter
Nick Moran (born 1968), a British actor
Paddy Moran (ice hockey), a Canadian hockey goaltender
Pat Moran (1876-–1924), an American baseball player and manager
Pat Moran (statistician) (1917-–1988)
Patrick Moran
Paul Moran (American soccer) (born 1983)
Paul Moran (photojournalist) (1963-–2003), a photojournalist
Paul Moran (English footballer) (born 1968), an English football player
Pauline Moran, an English actress
Polly Moran, an American actress and comedian
Reid Venable Moran (born 1916), a botanist
Robert Moran (born 1937), an American composer
Robert Moran (shipbuilder) (1857-–1943), an American shipbuilder
Rocky Moran (born 1950), a race car driver
Roger Moran, a British hillclimb driver
Ronnie Moran, a British football coach
Sam Moran (born 1978), an entertainer
Shawn Moran (born 1961), a speedway rider
Shlomo Moran, an Israeli computer scientist
Steve Moran, an English football player
Terry Moran, a television news correspondent
Terry Moran (bureaucrat), an Australian senior public servant
Thomas Moran (1837-–1926), an artist of the Hudson River School
Thomas Moran (author)
Thomas P. Moran, an engineer
Tommy Moran, a British Fascist
Tony Moran, a remixer and producer
William Joseph Moran, an American Roman Catholic bishop
William L. Moran (1921-–2000), an Assyriologist
"Mr. Moran," alias used by Salvatore Gravano, the underboss of the Gambino crime family