McMahon Name History
McMahon Irish Coat of arms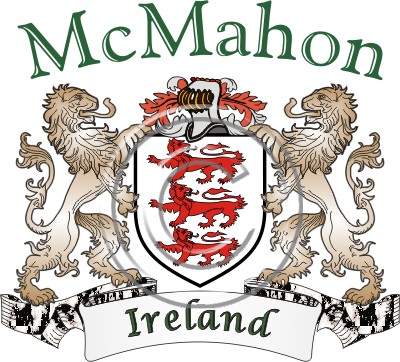 McMahon or MacMahon is an Irish surname, from the old Irish MacMathghamha and the modern Irish MacMathúna. Two separate septs arose in Ireland with the surname McMahon.
Kingdom of Oriel
The MacMahons of Oriel originated in the province of Ulster, in County Monaghan. The McMahons rose to power in 1250 AD, in the Kingdom of Oriel, which roughly evolved into the present day County Monaghan. They were chieftains of the territory for nearly 400 years.
Kingdom of Thomond
The MacMahons of Thomond originated in the province of Munster, in County Clare, and descend from the founder of the O'Brien dynasty, Brian Boru, through his son Teige, d. 1023, his son Turlough, d. 1086, his son Murtagh More, d. 1119, and his son Mahone 'a quo MacMahons of Corcabaskin' d. 1129. They became lords of the Corca Bhaschind or Corcavaskin area of south-west Clare which comprised the baronies of Moyarta and Clonderlaw, displacing the local O'Donnells and O'Baiscinn.
Motto of the McMahons
The motto of the Thomond sept of the McMahons is, "Sic Nos Sic Sacra Tuemur," which means, "Thus We Defend Our Sacred Rights."
Variant Spellings of the Irish surname McMahon include MacMahon, MacMann, MacMahan, MacMahon, Mahon, Maghan, Mann, and Maughan, among others.
Learn more about the McMahon family name
For more information about the McMahon, see the Framed Irish Family Name History, (#1760).
The Irish Rose offers many McMahon coat of arms products, from clothing to glassware to framed coat of arms heirlooms. Please visit the Irish Coat of Arms page.
Is there a McMahon Pub in Ireland?
There is definitely a pub in Ireland that bears the McMahon name.
If you can't visit in person, our personalized pub gifts are the next best thing!
Notable people named McMahon
Chieftains
Niall McMahon (Ladrannaibh, or the bandit), (early 12th century)
Ross Bui McMahon (late 16th century)
Brian Mac Hugh Og of the Dartrey MacMahons (late 16th century)
Raymond McMahon of the Killyleen McMahons (late 17th century)
Politics
Marshal MacMahon (Patrice de Mac-Mahon, Duke of Magenta (1808-1893)) the first president of the Third Republic of France, from 1875 to 1879.
Sir Henry McMahon (diplomat) (1862-–1949), British soldier and High Commissioner in Egypt
Michael McMahon, former New York City Councilman and current United States Congressman from the 13th district of New York State
Sir William McMahon (1908-–1988), politician, 20th Prime Minister of Australia, father of Julian McMahon
Culture
Andrew McMahon (born 1982), of the rock bands Jack's Mannequin and Something Corporate
Ciarán Mac Mathúna (1925-–2009), Irish broadcaster
Ed McMahon (1923–-2009), American entertainer known for his work on The Tonight Show Starring Johnny Carson
Geraldine McMahon, British-born harpist and singer of Irish descent
Gerard McMahon, English singer-songwriter known for the gothic rock anthem "Cry Little Sister" recorded for The Lost Boys film
Ivor McMahon (1924–-1972), English violinist
Jennifer McMahon (born 1968), American novelist
Julian McMahon (born 1968), actor, son of former Australian Prime Minister William McMahon
Kevin McMahon (musician), (born 1953), industrial rock musician
Séamus mac Pilib Mac Mathghamhna (died 1519), Bishop of Derry
Sonia McMahon (1932-–2010), Australian socialite, widow of William McMahon
Science
James McMahon (astronomer), American amateur astronomer
Lee E. McMahon, American computer scientist known for his work on the early Unix operating system and on the McMahon system tournament
Sports
Brian McMahon (born 1961), Canadian coxswain
Brigitte McMahon (born 1967), Swiss triathlete
Daryl McMahon, Irish footballer
Doc McMahon (1886-–1929), Major League Baseball pitcher
Don McMahon (1930–-1987), Major League Baseball pitcher
Jim McMahon (born 1959), American football player
Joe McMahon, Tyrone Gaelic footballer
John McMahon (cricketer), Australian-born cricketer who played in England
Justin McMahon, Tyrone Gaelic footballer
Kevin McMahon (athlete) (born 1972), American hammer thrower
Philip McMahon, Dublin Gaelic Footballer
Sadie McMahon (1867–-1964), Major League Baseball pitcher
Seánie McMahon, former Clare hurler
Sharelle McMahon, Australian netballer
Steve McMahon (born 1961), English footballer
Tony McMahon, Middlesbrough F.C. defender