McGuire Name History
McGuire Coat of Arms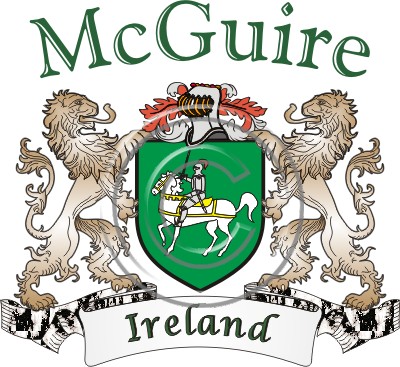 McGuire is a surname of Irish origin, from the Gaelic "Mag Uidhir." The name means "son of Odhar." Some historical background seems to indicate that the name Mag Uidhir, Maguire, or McGuire stems from the Magi of Éire who were the priests of ancient Ireland.
McGuire Castle in Enniskillen
McGuires are most often associated with County Fermanagh. The McGuire Royal Family (Maguidhirs) lived in the McGuire (Maguidhir) castle in Enniskillen (see photo). The origins of the island town of Enniskillen go back to prehistory when this short nexus was the main highway between Ulster and Connaught. Enniskillen Castle was the medieval seat of the McGuire (Maguidhir), chieftains of Fermanagh, who policed the lough with a private navy of 1,500 boats. Nearby is Maguiresbridge. At the castle, the King heard wind of a large army that had been sent to attack. Fearing the loss of all his clan, he sent half of his people to the northwest of Scotland, who adopted the surname of MacQuarrie.
Variant spellings of the Irish surname McGuire include MacGuire, Guire, Guirey, Guiry, among others.
More about the McGuire family name
For more information about the McGuires, see the Framed Irish Family Name History, (#1760).
The Irish Rose offers many McGuire coat of arms products, from clothing to glassware to framed coat of arms heirlooms. Please visit the Irish Coat of Arms page.
The McGuire Pubs of Ireland
We found several Maguire and McGuire pubs in Ireland. Here are a few to put on your itinerary:
If you can't visit one or all of the McGuire's pubs in person, our personalized pub gifts are the next best thing!
Notable people named McGuire
Al McGuire (1928-–2001), American college basketball coach
Anne McGuire (born 1949), Scottish politician; MP for Stirling
Annie McGuire, Scottish broadcaster and talk-show presenter
Barry McGuire (born 1935), American singer and songwriter
Betty McGuire, American television and film actress
Bill McGuire (volcanologist), English professor of volcanology
Billy and Benny McGuire, Guinness World Record holders for "World's Heaviest Twins"
Brian McGuire (1945–-1977), Australian race car driver
Bruce McGuire, Australian rugby league player
Casey McGuire (born 1980), Australian rugby league player
Danny McGuire, English rugby league player
Dave McGuire, founded the McGuire Programme for recovering stammerers in 1994
Deacon McGuire (1863–-1936), American professional baseball player, manager, and coach
Dick McGuire (1926–-2010), American professional basketball player and coach
Dominic McGuire, American professional basketball player
Dorothy McGuire (1916-–2001), American actress
Eddie McGuire (born 1964), Australian television journalist, sportscaster, and game show host
Edith McGuire (born 1944), American Olympic athlete in sprinting events in the 1964 Olympics
Edward McGuire (composer) (born 1948), Scottish composer
Frank McGuire (1916–-1994), American college basketball coach
Fred Henry McGuire, American Medal of Honor recipient
Gary McGuire (born 1938), English professional football player
Hunter McGuire (1835-–1900), American physician, teacher, and orator
Kathryn McGuire (1903-–1978), American silent film actress and dancer
Lester E. McGuire Sr. (1907-1998)
James McGuire (VC) (1827-–1862), Irish recipient of the Victoria Cross
James Kennedy McGuire (1868-–1923), American politician; mayor of Syracuse, New York
Joe McGuire (born 1944), Canadian politician; MP from Prince Edward Island
John McGuire
Maeve McGuire (born 1937), American soap opera actress
The McGuire Sisters (Christine, Dorothy, Phyllis), American singers (biological sisters)
Michael McGuire
Molly McGuire, Canadian-American singer and songwriter
Patrick McGuire (born 1987), English professional football player
Patti McGuire (born 1951), American model; Playboy Playmate of the Year 1977
Paul McGuire, Canadian entertainer, game show host, and producer
Paul McGuire (radio host), American radio host, author, and columnist
Peter J. McGuire (1852-–1906), American labor leader; important figure in the AFL
Phil McGuire (footballer) (born 1980), Scottish footballer
Phil McGuire (field hockey) (born 1970), British former field hockey player
Pierre McGuire (born 1961), American ice hockey analyst and sports commentator
Reba Rambo-McGuire, Christian singer and songwriter
Thomas McGuire (1920-–1945), American WWII flying ace; eponym of McGuire AFB
Victor McGuire, English actor
William Anthony McGuire, Academy Award winning American screenwriter and dramatist
William W. McGuire, American physician; former CEO of UnitedHealth Group
Samuel A. McGuire, Technology Director; CTO of Evolution Bureau