McGrath Name History
McGrath Coat of Arms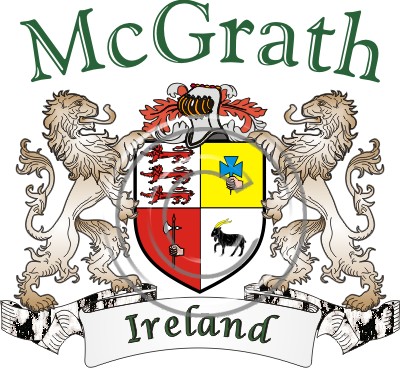 McGrath or MacGrath derives from the Irish surname Mac Craith. The name McGrath is derived from Mac Craith, recorded in other written texts as Mag Craith, Mag Raith and Macraith, including in the Annals of the Four Masters and the Annals of Ulster. McGrath is a surname of ancient Irish origin, borne by the descendants of a number of septs, each with a common origin in the Kingdom of Thomond, a kingdom that existed before the Norman invasion and was located in north Munster.
Variant Spellings of McGrath can include Magrath, McGraw, Macrae, MacCrae, McCreagh, MacGraith, Megrath, MacReagh, MacCraw, McCreath, MacGrae, Makrayth, McKray, and many others.
Learn more about the McGrath family name
The Framed Irish Family Name History, (#1760) has more information on the McGrath surname. There is a wide selection of McGrath coat of arms products at The Irish Rose. Please visit the Irish Coat of Arms page.
McGrath Pub in Ireland
We found at least five McGrath pubs in Ireland. Visit one or all of your namesake pubs:
If you can't visit one of the McCarthy establishments in person this year, our personalized pub gifts are the next best thing!
Notable people named McGrath
Christianity
Alister McGrath (born 1953), Anglican theologian
Desmond McGrath, Canadian politician and Catholic priest
Patrick Joseph McGrath (born 1945), Roman Catholic Bishop of San Jose, California
Music
Eamon McGrath (born 1988), Canadian indie rock musician
Gunner McGrath (born 1978), American vocalist and guitarist
Mark McGrath (born 1968), U.S. rock singer
Literature
Campbell McGrath, U.S. poet
Harold MacGrath (1871-1932), U.S. novelist and screenwriter
Patrick McGrath (novelist) (born 1950), British novelist
Seán mac Ruaidhrí Mac Craith (fl. 14th century), author of Caithréim Thoirdhealbhaigh
Thomas McGrath (poet) (1916-1990), U.S. poet and screenwriter
Wendy McGrath, Canadian poet and novelist
Actors, directors and screenwriters
Bob McGrath, Sesame Street actor
Derek McGrath (born 1951), Canadian actor
Douglas McGrath (born 1958), American screenwriter, director and actor
Frank McGrath (1903-1967), U.S. actor
Joseph McGrath (film director) (born 1930), Scottish film director
Judith McGrath (born 1942), Australian actress
Katie McGrath (born 1983), Irish actress
Sports
Glenn McGrath (born 1970), Australian former cricketer
John McGrath (English footballer) (1938-1998), English footballer and football manager
Paul McGrath (footballer) (born 1959), Irish former footballer
Tim McGrath (born 1970), former Australian rules footballer
Politics
Charles McGrath (1872-1934), Australian politician
J. Howard McGrath (1903-1966), U.S. politician
James McGrath (Canadian politician) (born 1932), Canadian politician
Joseph McGrath (politician) (1887-1966), Irish politician
Patrick McGrath (Irish politician) (died 1956), Irish politician
Paul McGrath (politician) (born 1948), Irish politician and Fine Gael TD
Others
Kevin McGrath (financier)
Patrick McGrath (psychologist), Canadian psychologist
Raymond McGrath (1903-1977), British Australian architect
Rory McGrath (born 1956), British comedian
Tom McGrath (media executive) (born 1956), U.S. media expert
Other uses
McGrath Foundation, an Australian breast cancer support and education charity
McGrath Cup, a Gaelic Football competition in Munster, Ireland
McGrath's Fish House, restaurant chain in the American Pacific Northwest