McDonald Name History
McDonald Coat of Arms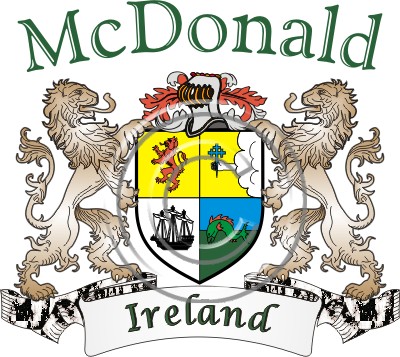 MacDonald, Macdonald, and McDonald are Anglicised forms of the Scottish Gaelic name MacDhòmhnaill. It is a patronym where Mac means "son" and Dhòmhnaill means "of Dòmhnall." The personal name Dòmhnall is composed of the elements domno ("world"), val ("might"), and ("rule"). The Gaelic personal name may borrow from the British Dyfnwal. In the context of Scottish clans, the various forms of the name refer to one of the largest clans, Clan Donald.
McDonalds in Ireland
Most likely, the McDonalds in Ireland came from Scots who settled in the Province of Ulster in the seventeenth century, or from the MacDomhnall sept (usually anglicized as McDonnell). The majority of McDonalds can be found today in Ulster.
Variant spellings of the Irish surname McDonald include MacDonald, Donaldson, MacDonny, and others.
Learn more about the McDonald family name
Our Framed Irish Family Name History, (#1760) has more information on the McDonald surname. There is a wide selection of McDonald coat of arms products at The Irish Rose. Please visit the Irish Coat of Arms page.
Is there a McDonald Pub in Ireland?
We are still looking for a McDonald Pub in Ireland, but we did find the MacDonald Kinsale Hotel & Spa on Rathmore Road, Kinsale, in County Cork. MacDonald Hotels are well-known in the UK.
If you can't visit in person, our personalized pub gifts are the next best thing!
Notable people named McDonald
Born after 1400
John of Islay, Earl of Ross (1434–1503), or "John MacDonald", Scottish ruler, Fourth Lord of the Isles and Chief of the Highland Clan Donald
Born after 1700
Jacques MacDonald (1765-–1840), French Duke of Tarento and Marshal of the Empire under Napoleon I (2nd generation French; father was Scottish)
John MacDonald of Garth, (1771-18660, early partner in the North West Company
John Small MacDonald (c.1791-–1849), Canadian businessman and provincial politician
Born after 1800
A. B. MacDonald, American journalist
Claude Maxwell MacDonald (1852-–1915), British soldier and diplomat
George MacDonald (1824-–1905), Scottish-English author, poet, and Christian minister
Hector MacDonald (1853-–1903), Scottish Major-General of the British Army under Lord Kitchener
John Alexander Macdonald (1815-–1891), first Prime minister of Canada
John L. MacDonald (1838–-1903), Scottish-American national politician
Pirie MacDonald (1867–-1942), American portrait photographer
Ramsay MacDonald (1866-–1937), Scottish politician, twice Prime Minister of the United Kingdom (son of "Macdonald" father and "Ramsay" mother, registered at birth as "James McDonald Ramsay")
Ranald MacDonald (1834–-1894), Scottish-Chinook educator. First man to teach the English language in Japan
William Josiah MacDonald (1873-–1946), American lawyer and national politician
Born after 1900
Jeanette MacDonald (1903-–1965), American singer and actress
John MacDonald (rower) (1908–-1982), New Zealand rower
Ian MacDonald (actor) (1914–-1978), American actor and director during the 1940s and 1960s
Ross Macdonald (1915–-1983), pseudonym of the American-Canadian writer Kenneth Millar
John D. MacDonald (1916-–1986), American novelist
Charles B. MacDonald (1922-–1990), American World War II soldier and military historian
Flora MacDonald (born 1926), Canadian politician
Peter MacDonald (Navajo leader) (born 1928) former chairman of the Navajo Nation
Jeffrey R. MacDonald (born 1943), American murderer
Kevin B. MacDonald (born 1944), American psychology academic
John MacDonald (Canadian musician) (born 1948), Canadian musician of the French horn (current residence, Germany)
Born after 1950
Alan MacDonald (rugby union) (born 1985), Scottish rugby union player
Andrew McDonald (water polo) (born 1955), American water polo player
Ann-Marie MacDonald (born 1958), Canadian playwright, novelist, actor and broadcast journalist (born in West Germany to Canadian military parents)
Garry MacDonald, English footballer
Heidi MacDonald, American comic book editor and comics critic
Jason MacDonald (born 1975), Canadian Mixed martial artist
Kevin MacDonald (footballer) (born 1960), Scottish footballer
Kirk MacDonald (ice hockey), Canadian ice hockey player
Kirk MacDonald (politician), member of the Legislative Assembly of New Brunswick
Mike MacDonald (born 1954), Canadian comedian and actor
Mike MacDonald (born 1980), American rugby union player
Roddie MacDonald (born 1954), Scottish footballer
Roddy (R.S.) MacDonald, Scottish-Australian Pipe Major and composer (26 year residence in England)
Rory MacDonald, Canadian professional mixed martial artist currently fighting in the UFC.
Shaun MacDonald (born 1988), Welsh footballer
William J. MacDonald (writer and producer), American television writer and producer
Andrew Duck MacDonald, American heavy metal/hard rock guitarist