McDermott Name History
McDermott Coat of Arms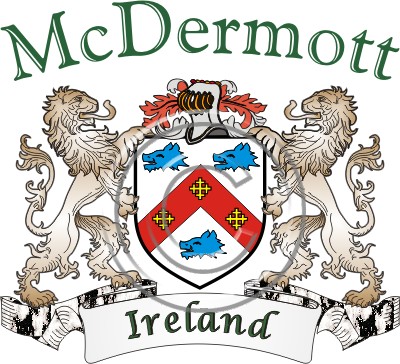 McDermott is both an Irish given name and surname. The Irish name McDermott traces back to three Gaelic Mac Diarmada septs based in Connaught. The main Sept was known as 'MacDermot Roe,' which derives from the Irish word for red.
Variant Spellings of the Irish surname McDermott include McDermot, McDermitt, McDermit, McDermutt, McDermut, and many more.
Learn more about the McDermott family name
For more information about the McDermotts, see the Framed Irish Family Name History, (#1760).
The Irish Rose offers many McDermott coat of arms products, from clothing to glassware to framed coat of arms heirlooms. Please visit the Irish Coat of Arms page.
Where to find McDermott's Pub in Ireland?
The McDermott family in Riverstown, County Sligo has operated Sean McDermott's & Son (sometimes called Sean Mac's) for a century.
If you can't visit Sean Mac's in person, our personalized pub gifts are the next best thing!
Notable people named McDermott
Alice McDermott, writer
Alister McDermott, cricketer
Andy McDermott, author
Bill McDermott, executive
Brian McDermott, rugby coach
Brian McDermott, football manager of Reading
Charlie McDermott, American actor
Craig A McDermott, British Contemporary Artist
Craig McDermott, cricketer
David McDermott, English footballer
Doug McDermott (born 1992), American basketball player; son of Greg McDermott (see below)
Drew McDermott, computer scientist
Dylan McDermott (born 1961), American actor
Eugene McDermott, geophysicist, philanthropist; co-founder, Chairman, Director of Texas Instruments
Gerald McDermott, American author, illustrator, graphic designer, and filmmaker
Greg McDermott (born 1964), American basketball coach
Helen McDermott, British radio and television presenter, best known for her work at Anglia Television
James J. McDermott, Jr., former CEO and Chairman of Keefe, Bruyette & Woods
Jim McDermott (born 1936), American politician
John McDermott (golfer), golfer
Kevin McDermott, Scottish singer/songwriter
Melissa McDermott, CBS news anchor and reporter
Michael McDermott, Software engineer who carried out the 2000 Wakefield Massacre
Michael McDermott, Chicago singer-songwriter
Mickey McDermott, baseball pitcher
Neale McDermott, football player.
Patrick McDermott, long-time boyfriend of Olivia Newton-John
Paul McDermott, comedian
Paul Mac, musician
Robert McDermott, basketball player
Terry McDermott, football player
William Dermott Molloy McDermott, Roman Catholic bishop