Lynch Name History
Lynch Coat of Arms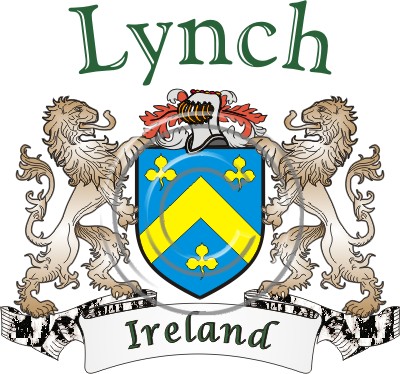 Lynch is a surname of English and Irish origin. The most famous Irish Lynch family were one of the Tribes of Galway and of Anglo-Norman origin. The original Norman-French form of the surname, de Linch, indicated a now unknown place of origin, probably in Normandy. It is from this wealthy landowning line that Patrick Lynch, who moved to Argentina, was from; including descendant Che Guevara. Variant Spellings of the Irish surname Lynch include Linch, O'Lynch, O'Linch and others.
Learn more about the Lynch family name
The Framed Irish Family Name History, (#1760) has more information on the Lynch surname. There is a wide selection of Lynch coat of arms products at The Irish Rose. Please visit the Irish Coat of Arms page.
Where is Lynch Pub in Ireland?
We found four pubs in Ireland that bear the name Lynch, but there may be more! Here are the ones we located:
If you can't visit in person, our personalized Lynch pub gifts are the next best thing!
Notable people named Lynch
A
Alastair Lynch (born 1968), Australian football player
Albert Lynch Peruvian painter
Angela Lynch Mayor of Galway
B
Benito Lynch, Argentine writer of Irish descent
Benny Lynch (1913–-1946), boxer
Brian Lynch (basketball), American basketball player
Brian Lynch (musician), American jazz musician
Brian Lynch (public servant), New Zealander
Brian Lynch (writer), American writer, director, and actor, best known for writing and directing the movie Big Helium Dog
C
Charles Lynch (jurist) (1736-–1796), Virginia militia officer in the American Revolutionary War and probable source of word "lynching"
Charles Lynch (politician) (1783–-1853), United States politician
Christopher Lynch (businessman), current Chief Financial Officer of BHP Billiton Ltd
Cynthia Lynch (born 1971), wrestler
D
Damian Lynch (born 1979), former Irish association footballer
Daniel Lynch (basketball) (1916-1981), former basketball coach at St. Francis College
David Lynch (born 1946), American film director
E
Eliza Lynch, mistress of Francisco Solano López, Paraguayan dictator
Eric the Midget (Eric Lynch), American radio personality
Evanna Lynch, Irish actress, known for her role as Luna Lovegood in Harry Potter and the Order of the Phoenix
F
Fionán Lynch, Irish politician
G
Genevieve Springston Lynch (1891–-1960), American artist
Geoffrey Lynch, aka Geffere Lynch, 4th Mayor of Galway, fl. 1488-1489
George Lynch (basketball), retired American professional basketball player
George Lynch (musician) (born 1954), American heavy metal guitarist
George Lynch (race car driver) (1918–-1997)
Gerard Lynch, several people
Grayston Lynch (1923-2008), American soldier and CIA officer
H
Holly Lynch, American model
J
Jack Lynch (1917–-1999), sports star and fourth Taoiseach of the Republic of Ireland
Jane Lynch (born 1960), American actress
Jarvis Lynch (born 1933), American general
Jay Lynch (born 1945) An American cartoonist
Jennifer Lynch (born 1968), American film director
Jeremiah Lynch (1888-–1953), Irish-born Scotland Yard detective and spycatcher
Jessica Lynch (born 1983), American soldier and prisoner of war
Joe Lynch (actor) (1925-–2001), Irish actor
Joe Lynch (boxer) (1898-–1965), American boxer
Joel Lynch (born 1987), English footballer
John H. Lynch (born 1952), American politician and governor of New Hampshire (2005–)
John Lynch (actor), actor from Northern Ireland
John Lynch (American football) (born 1971), American football player
John R. Lynch (1847–-1939), black U.S. politician after the American Civil War
K
Kelly Lynch (born 1959), American actress
Kenny Lynch, English singer and actor
Kevin Lynch (hunger striker), Irish republican
Kevin A. Lynch (1918-–1984), American urban planner and author
Kevin G. Lynch, Canadian civil servant
L
Liam Lynch (Irish Republican) (1893-–1923), Irish general
Liam Lynch (musician) (born 1970), musician, puppeteer, and director
M
Mark Lynch, association footballer
Mark Lynch, Gaelic footballer
Marshawn Lynch, American football player
N
Nancy Lynch, professor at MIT
Noel Lynch, British politician
Nnenna Lynch, American distance runner
P
Patricio Lynch, Chilean Rear-Admiral
Patrick Lynch (Argentina), Irish emigrant to Argentina and ancestor of Che Guevara
Patrick Lynch (Roman Catholic Bishop), Roman Catholic Diocese of Southwark
Patrick C. Lynch, incumbent Attorney General of Rhode Island
Patrick J. Lynch, artist and author
Patrick Neeson Lynch, Catholic bishop during the American Civil War
Peirce Lynch, first Mayor of Galway
Peter Lynch (born 1944), investor
Q
Quinten Lynch, Australian Football League player for the West Coast Eagles
R
Ray Lynch (born 1943), American musician
Robert Clyde Lynch, American physician who developed the Lynch operation
Ross Lynch, American actor and musician
Rydel Lynch, American musician
Rocky Lynch, American musician
Riker Lynch, American actor and musician
S
Sandra Lea Lynch (born 1946), first woman judge on the United States Court of Appeals for the First Circuit
Scott Lynch (born 1978), American fantasy author
Shane Lynch (born 1976), Irish singer
Simon Lynch (footballer), Canadian footballer
Stan Lynch, former drummer for Tom Petty and The Heartbreakers
Stephen Lynch (cricketer) (born 1976), New Zealander
Stephen Lynch (musician) (born 1971), American singer/comedian
Stephen Lynch (politician) (born 1955), American congressman
Steve Lynch, Autograph's guitarist
Susan Lynch (pediatrician), First lady of New Hampshire
Sybil Lynch, American singer
T
Thaddeus Lynch (1901-–1966), Irish politician
Thomas Lynch (statesman) (1727-–1776), South Carolina delegate to the Continental Congress
Thomas Lynch, Jr. (1749-–1779), signed U.S. Declaration of Independence
Thomas Lynch (congressman) (1844–-1898), U.S. Congressman from Wisconsin
Thomas C. Lynch (1904-–1986), California state attorney-general (1964-–1971)
Tommy Lynch, rugby league footballer
V
Valeria Lynch (born 1952), Argentine singer
W
William Lynch (Lynch law), Virginia citizen
William F. Lynch (1801–-1865), American naval officer
People with hyphenated Lynch surname
George Edward Lynch Cotton (1813-–1866), English educator and churchman
David Lynch Scott (1845-–1924), Canadian justice
John Lynch-Staunton (born 1930), Canadian senator
Jesse Lynch Williams (1871–-1929), American author