Farrell Name History
Farrell Coat of Arms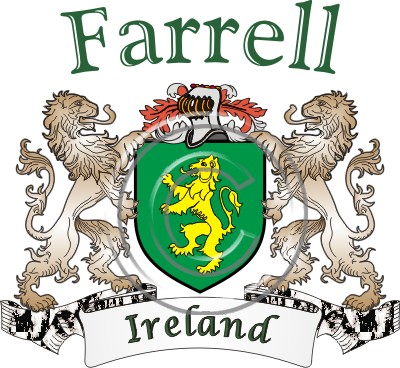 Farrell is a surname from the Irish Farrell clan (Irish: Uí Fhearghail) meaning "descendant of Fearghal."
Variant spellings of the Irish surname Farrell include Ferrell, Farrelly, Frahill, and many more. The Farrell name is commonly found in the Irish county of Longford.
More about the Farrell family crest and surname
We can offer more information about the Farrell family name and crest with two heirloom-quality gifts. Click on the links to see and shop for framed Farrell name histories and coat of arms.
We carry many other products, including clothing, glassware, flags and more, all of which can be personalized with the Farrell coat of arms and name. Our Irish Coat of Arms page has gift ideas for Farrells and other Irish families.
A Farrell's Pub in Ireland?
There is at least one Farrell's Pub in Ireland, and you can find it in Dún Laoghaire, Dublin. If you can't visit in person, our personalized Farrell pub gifts are the next best thing!
Notable people named Farrell
In music and ballet:
Angela Farrell, Irish singer
Bernadette Farrell, English composer, hymnwriter
Ciarán Farrell, Irish composer
Bobby Farrell (1949–-2010), Dutch DJ
Dave Farrell, bassist (Linkin Park)
Eileen Farrell, American opera and concert singer soprano
Gail Farrell, American singer/songwriter
Joe Farrell, jazz saxophonist and flautist
Perry Farrell, American musician
Suzanne Farrell, American ballerina
In sports:
Andrew Farrell, English rugby league and rugby union player
Craig Farrell (footballer), English footballer
Damien Farrell, Antiguan and Barbudan footballer
Dessie Farrell, Irish Gaelic footballer
Frank J. Farrell, co-owner of the New York Yankees
Frank Farrell (rugby league), Australian rugby league footballer and policeman
Greg Farrell, Scottish footballer
John Farrell (speed skating), American speed skater
Johnny Farrell, American professional golfer
Kerby Farrell, American baseball player
Renita Farrell, Australian field hockey player
Turk Farrell, American baseball player
In literature:
Brian Farrell, Irish author, journalist, academic & broadcaster
Henry Farrell, the author of the Hollywood horror novel What Ever Happened to Baby Jane?
J. G. Farrell (1935–-1979), Irish writer
John Farrell, American poet
James T. Farrell, American novelist
Warren Farrell, American writer
In television and film:
Mark Farrell, Canadian comedian and writer
Charles Farrell (1901–-1990), American actor
Colin Farrell, Irish actor
Glenda Farrell, American actress
Judy Farrell, American actress
Mike Farrell, American actor
Nicholas Farrell, British actor
Paul Farrell (1893-–1975), Irish actor
Stephen Farrell, journalist
Terry Farrell, American actress and fashion model
Timothy Farrell, American actor
In fiction:
Caroline Farrell, the original name of "Echo," the protagonist of Joss Whedon's Dollhouse TV series
Jamey Farrell, fictional character
Kat Farrell, fictional character existing in Marvel Comics' Marvel Universe
Rosa Farrell, fictional character
In military:
Edelmiro Julián Farrell, Argentine soldier
John Farrell, Irish recipient of the Victoria Cross
Luis Farell, Mexican Air Force Combat Pilot
In politics:
Craig Farrell (politician), member of the Tasmanian Legislative Council
Edelmiro Julián Farrell, President of Argentina (1944-–1946)
Henry Farrell (political scientist), political scientist at George Washington University
Peggy Farrell, Irish politician
Robert C. Farrell, member of the Los Angeles City Council from 1974 until 1991
Willie Farrell (1928-–2010), Irish politician
In other fields:
Brian D. Farrell, bioinformaticist and museum curator
Lennox Farrell, head of the Caribbean Cultural Committee
Scott Ferrall, American radio host
Tami Farrell, Miss Teen USA 2003
Terry Farrell (architect), leading English architect
Thomas Farrell (general), the Deputy Commanding General and Chief of Field Operations of the Manhattan Engineer District
Mairéad Farrell (1957-–1988), PIRA volunteer
William Farrell (architect) (died 1851), Irish architect