Casey Name History
Casey Irish Coat of arms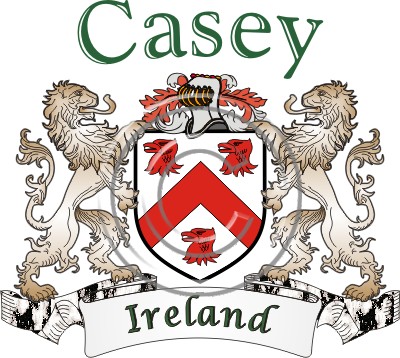 Casey is a common variation of the Gaelic Cathasaigh (also O Cathasaigh), and means vigilant or watchful. At least six different septs used this name, primarily in the Irish counties of Cork and Dublin, but also found in Fermanagh, Mayo, Limerick, and Roscommon. These days, Caseys can be found across Ireland, especially in the counties of Munster and Connacht.
Variant spellings of the Irish surname Casey include McCasey, O'Casey, and others.
How to find out more about the Casey family crest
We are proud to offer two items that may shed more light on the Casey family coat of arms and history in Ireland. Our Framed Irish Family Name History (#1760) and Framed Irish Coat of Arms & Family History (#1700) provide more details about the Casey family in Ireland. These beautiful framed documents will be treasured in the Casey family for years to come.
Find other Casey coat of arms products on the Irish Coat of Arms page.
Visit the Casey Pubs in Ireland
There are a few fine establishments in Ireland bearing the Casey name, all found in County Cork.
If you can't visit in person, our personalized pub gifts are the next best thing!
Notable people named Casey
Adam Casey (born 1986), Australian soccer player
Albert Vincent Casey (1920–-2004), former United States Postmaster General
Ann Casey (born 1938), American professional wrestler
Anne Casey, New Zealand-trained nurse based in England, developer of Casey's model of nursing
Bernie Casey (born 1939), American football player and actor
Bill Casey (born 1945), Canadian politician
Bob Casey (baseball announcer) (1925–-2005)
Bob Casey (rugby player) (born 1978), Irish rugby union footballer
Bob Casey, Jr. (born 1960), U.S. Senator (D-PA), son of late Pennsylvania Gov. Robert P. Casey
Cathal Casey (born 1967), Irish hurler
Conor Casey (born 1981), American soccer player
Dan Casey (1862-–1943), American baseball player
Daniel Casey (born 1972), English actor
Don Casey, American basketball coach
Dwane Casey (born 1957), head coach of the NBA's Toronto Raptors
Eamon Casey (born 1927), Roman Catholic Bishop Emeritus of Galway and Kilmacduagh, Ireland
Ed Casey (1933-–2006), former leader of the Australian Labor Party in Queensland
Eddie Casey (1894-–1966), American football player and coach
Eduardo Casey (1847–-1906), Argentine founder of Venado Tuerto
Frank Casey (died 1994), Australian president of the Public Transport Users Association
George William Casey, Sr. (1922-–1970), two-star general, United States Army
George William Casey, Jr. (born 1948), four-star general, United States Army
Gerard Casey (philosopher) (born 1951)
Gerard Casey (artist), Irish artist
Harry Wayne Casey (born 1951), American musician
Hugh John Casey (1898–-1981), Major General in the United States Army
James Casey (American football) (born 1984), American football player
James E. Casey (1888–-1983), American businessman
Jim Casey (footballer) (born 1957), Scottish football player
Joe Casey, American comic book writer
John Casey (academic), British academic
John Casey (mathematician) (1820–-1891), Irish geometer
John Casey (novelist) (born 1939), American novelist
John Keegan Casey (1846-–1870), Irish poet
Joseph E. Casey (1898-–1980), United States Representative from Massachusetts
Karan Casey (born 1969), Irish folk singer
Karen Casey (born 1947), Canadian politician
Kathleen L. Casey (born 1966), commissioner of the U.S. Securities and Exchange Commission
Ken Casey, bass guitarist and vocalist of the Boston punk rock group Dropkick Murphys
Kenneth Casey (1899–-1965), American composer, publisher, author and child actor
Len Casey (born 1953), English rugby league footballer
Lyman R. Casey (1837–-1914), United States Senator from North Dakota
Marty Casey (born 1973), American rock musician
Martyn P. Casey (born 1960), Australian rock bass guitarist
Mike Casey (labor leader) (born 1958)
Natalie Casey, English actress
Owen Casey (born 1969), Irish tennis player
Paddy Casey, Irish singer-songwriter
Patricia Casey, Professor of Psychiatry at University College Dublin
Paul Casey (born 1977), English golfer
Peter Casey, American television producer and screenwriter
Ray Casey (1900–-1986), American tennis player and coach
Robert P. Casey (1932-–2000), American politician
Samantha Casey (born 1988), American Beauty Queen, Miss Virginia Teen USA 2006, 3rd runner-up at Miss Teen USA 2006 and Miss Virginia USA 2010, 2nd runner-up at Miss USA 2010
Samuel Casey (Upper Canada politician) (1788-–1857)
Shaun Casey, American model
Silas Casey (1807-–1882), United States Army officer during the American Civil War
Solanus Casey (1870-–1957), Capuchin priest
Steve Casey (1909–-1987), Irish wrestler
Thomas Lincoln Casey (entomologist)
Thomas Lincoln Casey, Sr. (1831-–1896), American soldier and engineer
Willet Casey (1762–-1848), Canadian farmer and political figure
William Casey, Director of CIA from 1981 to 1987
Zadok Casey (1796-–1862), American politician
Save
Save