Walsh Name History
Walsh Name History & Irish Coat of arms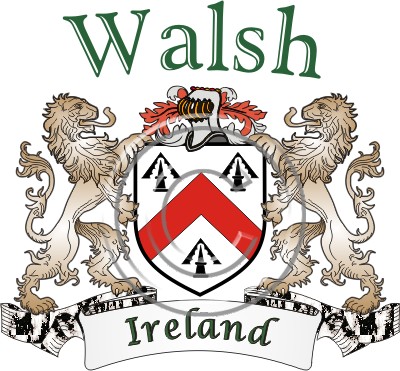 Walsh is an Irish surname meaning "Breton," or "foreigner," and literally "Welshman." It was taken to Ireland by the Welsh during the Norman Invasion of Ireland. It is most common in County Mayo and County Kilkenny. It is the fourth most common surname in Ireland, and the 325th most common in the United States.
There are variants including Walshe, Welsh, Brannagh, Brannick, and Breathnach. Walsh is uncommon as a given name. The name is often pronounced "Welsh" in the south and west of the country.
About the Walsh coat of arms
The spears featured in the Walsh coat of arms denote the Walsh family's readiness for military service. The motto used in most examples of the Walsh crest is 'Transfixus sed non mortuus,' Latin for, 'Transfixed, but not dead.'
More about the Walsh family
The Walsh history in Ireland is long and storied. We have two heirloom-quality products that provide detailed information on the Walsh coat of arms and name.
We also carry many other products, including clothing, glassware, flags and more, all of which can be personalized with the Walsh coat of arms and surname. Visit our Irish Coat of Arms page for great gift ideas.
Find a Walsh Pub in Ireland
We found at least one pub in Ireland that is the Walsh family namesake. When in Galway, be sure to visit Walsh's Bar in Dunmore, a fine establishment over 150 years old.
If you can't visit in Walsh's in person, our personalized pub gifts are the next best thing!
Notable people named Walsh
Adam Walsh, American murder victim
Addie Walsh, soap opera writer
Augie Walsh, baseball player
Benjamin Dann Walsh, American entomologist
Bill Walsh, American firefighter and part time actor
Bill Walsh, American football coach
Bill Walsh, film producer
Bradley Walsh, footballer, TV presenter and soap actor
Brandon Walsh, fictional character from Beverly Hills, 90210
Brenda Walsh, fictional character from Beverly Hills, 90210 and 90210
Brian Walsh (horseracing) (b.1951), racehorse owner
Carl E. Walsh, economist and professor
Chris Walsh (American football), American football player
Chris Walsh (rugby league), Australian rugby league footballer
Christy Walsh case, notable case arising from British political courts in Northern Ireland
Christy Walsh (hurler) Kerry Hurley player
Cindy Walsh, fictional character from Beverly Hills, 90210
Colin Walsh, publisher, based in Dublin, Ireland
Courtney Walsh, former international cricketer
Craig Walsh (b.1971), American composer
David I. Walsh, Senator and Governor of Massachusetts
Ed Walsh, baseball player
Edmund A. Walsh 1885-–1956), Jesuit priest and educator
Evalyn Walsh last private owner of the Hope Diamond
Frances Walsh, screenwriter, film producer, and musician
Fintan Patrick Walsh, known as the Black Prince. New Zealand politician and leader of many New Zealand Unions including the Sea Men's Union during the 1950s.
Gail Walsh (politician) (b.1958), Canadian politician
Ian Walsh (footballer) (b.1958), Welsh international footballer
James Morrow Walsh, NWMP inspector
James T. Walsh, representative of New York State
Jimmy Walsh, baseball player
Joe Walsh, American guitarist and rock musician
Joe Walsh, Irish politician
Joe Walsh, Illinois politician
John Walsh, host of America's Most Wanted
John Walsh (printer) (1665 or 1666-–1736) music publisher
John Walsh, 1st Baron Ormathwaite (1798–1881)
John Walsh (archbishop) (1830-–1898), Roman Catholic Archbishop of Toronto
John Walsh (department store), a department store in Sheffield, England
John Walsh (politician), Member of the Legislature of Dakota Territory
John Walsh (scientist) (1726–-1795), British scientist and Secretary to the Governor of Bengal
John P. Walsh (1856-–1925), Irish businessman and nationalist politician
John R. Walsh (1913–-1975), US Representative from Indiana
John Walsh (American football), Brigham Young University starting quarterback
John Walsh (baseball) (1879–-1947), Major League player
Johnny Walsh (gang member), NYC gangster
Johnny Walsh (footballer), Irish former soccer player
Johnny Walsh (hurler)
Jack Walsh (cricketer), Australian cricketer
Jack Walsh, the character portrayed by Robert De Niro in the film Midnight Run
Joseph Leonard Walsh (1895-–1973), an American mathematician
J. T. Walsh, American actor
Kate Walsh (actress) (b.1967), American actress
Kate Walsh (presenter) (b.1981), British TV presenter
Kay Walsh, an English actress and dancer
Kerri Walsh, American beach volleyball player
Kimberley Walsh, member of British girlband Girls Aloud
Lawrence E. Walsh (regarding Iran Contra Affair)
Louis Walsh, pop music manager and X Factor judge
Maggie Walsh, fictional character from Buffy the Vampire Slayer
Maiara Walsh, American actress
María Elena Walsh, Argentine singer and writer
Mark Walsh (businessman) (b.1954), venture capitalist
Mark Walsh (darts player) (b.1965), English darts player
Martin Walsh, Academy-Award winning film editor
Mary Lee (suffragette) (1821-–1909), born Mary Walsh
Mary Walsh (politician) (1929–-1976), Irish Fine Gael Senator
Mary Walsh (actress) (b.1952), Canadian actress
Mary Walsh (journalist), US producer at CBS news
Michael Walsh (Medal of Honor), American Medal of Honor recipients
Mickey Walsh, Irish footballer
Norman Walsh, Rhodesian and Zimbabwean air marshal
Pat Walsh (rugby) (1879-–1953) Australian Dual code International
Bishop Patrick Walsh (born 1931), Northern Irish Catholic bishop
Fr. Paul Walsh 1885-–1941), Irish priest and historian
Paul Walsh (businessman) (born 1955), CEO of Diageo plc
Paul Walsh (born 1962), English footballer
Phil Walsh, English footballer
Raoul Walsh, movie director
Richard Walsh, project manager, Blackpool
Rodolfo Walsh, Argentine journalist, writer and politician
Ruby Walsh, Irish jockey
Stanisława Walasiewicz aka Stella Walsh
Stephen Walsh (1859-–1929), Labour Party MP
Stephen Walsh (money manager) (born 1947), accused of securities fraud
Steve Walsh, DJ
Steve Walsh, American musician
Steve Walsh, former American Football quarterback
Steve Walsh, former professional footballer
Steve Walsh, New Zealand rugby referee
Thomas J. Walsh, American politician
Tommy Walsh, hurler with Kilkenny GAA
Tommy Walsh, Gaelic footballer with Kerry GAA
Tommy Walsh, Gaelic footballer with Wicklow GAA
Walt Walsh, baseball player
Save
Save
Save
Save