Shannon Name History
Shannon Irish Coat of Arms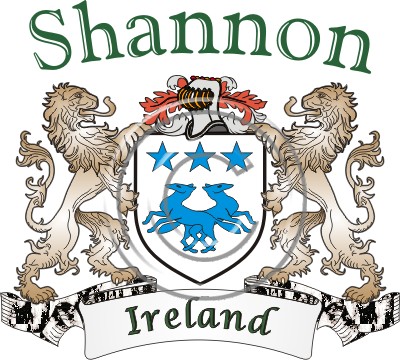 Shannon, MacShannon, and O'Shannon are Anglicised Irish and Scottish surnames that derive from the Scots word seanachaidh, which means "skilled storyteller". Seanachaidh is a corruption of the Old Irish word senchaid. Other forms of the name are Gilshenan and Giltennen. It is also believed to be connected to O'Shawnessey or O'Shannahan families. Several old Gaelic names of Scottish and Irish people alike were Anglicised as Shannon, despite being unrelated. Shannon as a surname first appears in records in Kintyre, which was the family seat.
The 1990 United States Census found that Shannon was a very common surname (#679 out of 88,799) in the United States.
Variant spellings of the Irish surname Shannon are Shennan, Shannane, and others.
Details about Shannons in Ireland
The Shannons were an influential family in Ireland. We are honored to offer two framed documents that provide more details on the Shannon surname and coat of arms. The Framed Irish Family Name History and Framed Irish Coat of Arms & Family History are heirloom-quality framed prints that describe the Shannon family history in detail.
Shannon is one of the many Irish family crests and surnames available on clothing, glassware, home decor, and other quality gifts. See the Irish coat of arms page on theirishrose.com for family crest ideas and products.
Is there a Shannon's Pub in Ireland?
There are pubs in the town of Shannon, County Clare and there are pubs in Carrick-on-Shannon, the county town of County Leitrim, and there is at least one pub named Shannon. If you're near Foynes in County Limerick, visit Shannon House, a traditional, family-owned pub. If you find more Shannon's Pubs in your Ireland travels, let us know!
If you can't visit in person, our personalized pub gifts are the next best thing!
Notable people named Shannon
Artists
David Shannon (born 1960), American author
Del Shannon (1934–-1990), American rock and roll musician
Frank Shannon, (1874-1959), Irish-American actor and writer
James Jebusa Shannon (1862–-1923), Anglo-American painter
Johnny Shannon (born 1932), English actor
Mem Shannon (born 1959), American blues singer-guitarist
Molly Shannon (born 1964), American actress
Richard Shannon (born 1954), American writer
Shannon (born 1939), once-off stage name of English singer and songwriter Marty Wilde
Shannon (singer) (born 1958), stage name of singer Shannon Brenda Greene
Sharon Shannon (born 1968), Irish musician
T. Sean Shannon (fl. 2000s), American performer and writer
Terry Shannon (1952-–2005), American engineer and writer
Tommy Shannon (born 1946), American bassist best known for backing Johnny Winter and Stevie Ray Vaughan
Shannon Magrane (born 1995), On American Idol
Journalists
Bob Shannon (Radio) (born 1942), Canadian journalist
Bob Shannon (WCBS-FM) (born 1948), American journalist
George W. Shannon (1914–-1998), American journalist
Mark Shannon (born c. 1950), American journalist
Paul Shannon (1909-–1990), American journalist
Scott Shannon (fl. c. late 20th century), American journalist
William V. Shannon (1927–-1988), American journalist
Military personnel
Dave Shannon (1922-1993), Australian airman
Politicians
David Shannon (1822-1875), South Australian politician
George Shannon (explorer) (1785–-1836), explorer and U.S. Senator
Frank Shannon (politics), unchosen politician and journalist
Howard Huntley Shannon (1892-1976), Australian politician
James Shannon (born 1952), American politician
James Shannon, (1840-1891), South Australian politician
John Wallace Shannon (1862-1926), South Australian politician
Peter Shannon (born 1949), Australian diplomat
Richard C. Shannon (1839-–1920), US Representative from New York
Steve Shannon (born 1971), American politician
Thomas A. Shannon, Jr. (born c. 1960), American diplomat
Scientists
Claude Shannon (1916–-2001), American mathematician and electrical engineer, the originator of Information Theory
Frederick A. Shannon (1921-–1965), American biologist
Sports
Darryl Shannon (born 1968), Canadian hockey player
Frank Shannon (baseball) (1873-1934), American baseball player
Les Shannon (1926-–2007), English football player and manager
Mike Shannon (born 1939), American baseball player and journalist
Rab Shannon, Scottish footballer
Randy Shannon (born 1966), American football coach
Shannon (born 1975), one of many ring names of American wrestler Shannon Spruill