Kelley Name History
Kelley Irish Coat of Arms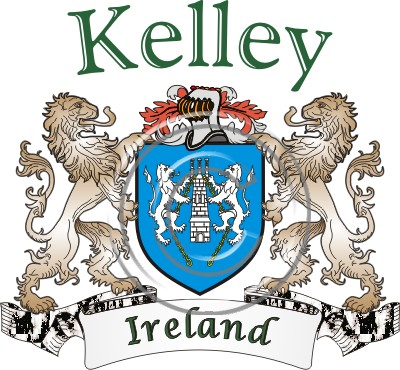 The name, 'Kelley,' has numerous origins. In some cases it is derived from place names located in Ireland, Wales, Scotland and England. In other cases it is derived from patronyms (names based on the father's or grandfather's name) in the Irish language. The first appearance of the name Kelley in Ireland was south of the city of Dublin. Some believe that the name is derived from the Irish king, Colla da Crioch, d. 357 CE.
Variant spellings of the Irish surname Kelley include Kelly, Kellie, O'Kelley, O'Kelly, O'Kellia and many others.
Find out more details about the Kelley coat of arms
You can learn more details about the Kelley surname through the Framed Irish Family Name History product (#1760). We also offer other Kelley coat of arms products at The Irish Rose. See them all on our Irish Coat of Arms page.
Finding a Kelley Pub in Ireland
In Cobh, in County Cork, you can visit Kelley's Irish Pub and toast the Kelley clan. If you can't visit in person, our personalized pub gifts are the next best thing!
Notable people named Kelley
Abby Kelley (1811-–1887), Quaker abolitionist and social reformer; mentor of Susan B. Anthony
Alton Kelley an American artist
Ann Kelley, British writer
Augustine B. Kelley (1883-–1957), US Congressman from Pennsylvania
Clarence M. Kelley (1911-–1977)
David Kelley (born 1949), American objectivist philosopher
David E. Kelley (born 1956), American television writer and producer
Dean M. Kelley (1927–-1977), American author and religious freedom advocate
DeForest Kelley (1920-–1999), actor, famous for Star Trek
Edward Kelley (1555-–1597), alchemist and spirit medium, possible creator of Enochian
Florence Kelley (1859-–1932), social/consumer safety/civil rights activist
Francis Kelley (1870-–1948), American Roman Catholic Bishop
Geoffrey Kelley (born 1955), Canadian politician
Harold Kelley, psychologist
Harold Kelley (rugby league), Australian rugby league footballer
Homer Kelley (1907–1983), American golf instructor
Jack Kelley, disgraced American journalist
Jacquelyn Kelley (1926-–1988), All-American Girls Professional Baseball League
Jill Kelley (born 1975), American socialite and volunteer military liaison; connected with 2012 scandals involving Generals David Petraeus and John R. Allen, as well as the FBI
Joseph James Kelley (1871-–1943), American baseball player
John L. Kelley (1916-–1999), mathematician
Johnny Kelley (1907-–2004), American long-distance runner
Josh Kelley, singer/songwriter
Kevin Daniel Kelley, American drummer with The Byrds
Kitty Kelley (born 1942), American journalist and author
Mike Kelley (artist) (1954-2012), American artist
Mike Kelley (baseball) (1875-–1955), American baseball player and manager in the minor leagues
Mike Kelley (American football), American football quarterback for San Diego Chargers
Oliver Hudson Kelley (1826-–1913)
Paul X. Kelley (born 1928), 28th Commandant of the U.S. Marine Corps
William "Pig-Iron" Kelley (1814–-1890), Quaker abolitionist, US Congressman from Pennsylvania
Save