O'Neill Name History
O'Neill Irish Coat of arms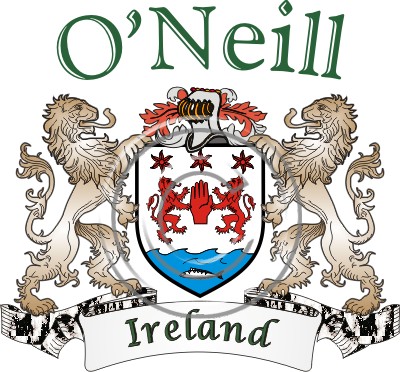 The surname O'Neillis ultimately of Irish Gaelic origin.

The surname O'Neill is an Anglicization of the original Gaelic Ua Néill, composed of the elements ua, meaning "grandson" or "descendant," and of the Gaelic name Niall. The meaning of the Niall is disputed, but has been suggested as "cloud", "passionate" or "champion".The progenitor of the family is said to be Niall Noigiallach of the Nine Hostages, which legend claims was the High King of Ireland in the fifth century. However, it was the grandsons of Niall Glúndub, himself a descendant of Niall Noigiallach that lived in the tenth century, that would have been the first to use the surname.
It is due to the Anglicization of the original Gaelic that the several spelling variations have emerged, during the transcribing of the name into English. Irish and Scottish variants also exist and include MacNeal, MacNiel and MacNeill, which arose when the ua element in the name was replaced with mac, meaning "son of." Ó has replaced Ua since the end of a standard Gaelic and its gradual evolution into Scottish, Manx and Irish. O'Neill is also occasionally found used as a given name.
The red hand is explained by several slightly differing legends, but which tend to have a common theme that begins with a promise of land to the first man that is able to sail or swim across the sea and touch the shores of Ireland. Many contenders arrive, including a man named O'Neill, who begins to fall behind the other. Using his cunning, O'Neill cuts off his left hand and throws it onto the beach before the other challengers are able to reach shore, thus technically becoming the first of them to touch land and wins all of Ireland as his prize. However, the legends seem to originate in the seventeenth century, several many centuries after the red hand was already borne by the O'Neill families.

Variant Spellings of the Irish surname O'Neill - O'Neil, Neal, Neale, Neales, Neil, Nihill, O'Niel, O'Neal, Neill

Our item #1760 Framed Irish Family Name History has more information on the O'Neillsurname.

There is a wide selection of O'Neillcoat of arms products at The Irish Rose.

Please visit our coat of arms page: Irish Coat of Arms Page


The Irish Rose has a large selection of O'NeillCoat of arms items. O'Neill coat of arms flags, O'Neill coat of arms mugs, O'Neill coat of arms tee shirts, O'Neill coat of arms sweatshirts, O'Neill coat of arms family name history, O'Neill coat of arms glassware, O'Neill coat of arms plaques, O'Neill coat of arms caps and many more.




Notable people named O'Neill
A
B
C
D
E
F
G
H
I
J
K
L
Names M-Z
M
N
O
P
R
S
T
W
Y
Save