O'Rourke Name History
O'Rourke Coat of Arms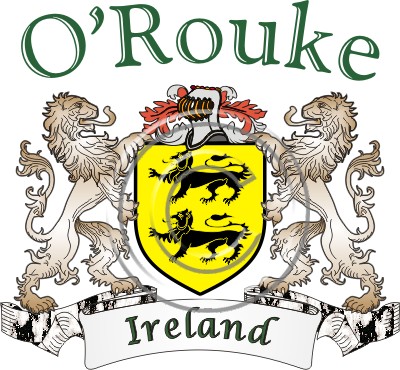 O'Rourke is an Irish surname that comes from the Irish "O Ruairc." It derives from Ruarc, a personal name itself derived from the Old Norse Hrothekr, meaning 'famous king.' The motto for the O'Rourkes is Buagh, which means, "Victory." An alternate motto, Serviendo Guberno, means "I Govern by Serving."
The O'Rourkes are of the same stock as the O'Connors of Connacht, part of the large tribal grouping of the Ui Briain, claiming common descent from Brion, a fifth-century King of Connacht.
Variant spellings of the Irish surname O'Rourke include O'Rorke, O'Rork, O'Rourk, O'Roark, and many others.
Find out more details about the O'Rourke coat of arms
The Irish Rose carries two items which may provide you with more details about the O'Rourke family in Ireland, their family crest, and other historical notes.
We also carry O'Rourke caps, shirts, flags, mugs, etched glassware, and heirloom products. Visit our coat of arms page to see all the items available with the O'Rourke name and family crest.
Locate O'Rourke's Pub in Ireland
There is a pub with your name on it! Jack O'Rourke's Bar & Accommodation in Abbeyfeale, County Limerick offers B&B accommodations and a fireside pub.
If you can't visit O'Rourke's in Abbeyfeale, our personalized pub gifts are the next best thing!
Notable people named O'Rourke
Andrew O'Rourke, judge and politician from New York State
Beto O'Rourke (born 1973), American entrepreneur and civic leader
Brian O'Rourke (1540-–1591), hereditary lord of West Breifne in Ireland
Colm O'Rourke (born 1957), Irish footballer
Danny O'Rourke (born 1983), American soccer player
Declan O'Rourke, Irish singer
Denis O'Rourke (born 1946), New Zealand politician
Dennis O'Rourke (born 1945), Australian documentary film director
Derval O'Rourke (born 1981), Irish sprint hurdles athlete
Edward O'Rourke (1876–-1943), Polish Roman Catholic priest, bishop of Riga, first bishop of Danzig (Gdańsk)
Frank O'Rourke (1916-–1989), American writer
Frank O'Rourke (baseball) (1894-–1986), Canadian infielder in Major League Baseball
Frank O'Rourke (footballer) (1878-1954), Scottish footballer
Heather O'Rourke (1975–-1988), American child actress
Jet O'Rourke (born 1983), Australian Pop/ Rock singer songwriter
Jim O'Rourke (baseball player) (1850–-1919), American professional baseball player
Jim O'Rourke (musician) (born 1969), American musician and producer
John O'Rourke (footballer) (born 1945), English footballer
John O'Rourke (baseball) (1849-1911), American baseball player
Kathy Kirby stage name of Kathleen O'Rourke, pop singer
Mary O'Rourke (born 1937), Irish politician
Mícéal O'Rourke, an Irish classical pianist
Michael O'Rourke (born 1955), New Zealand javelin thrower
Michael James O'Rourke (1878–-1957), Canadian recipient of the Victoria Cross
Mike O'Rourke (1862-–1882) a professional gambler of the Old West
P. J. O'Rourke (born 1947), American political satirist, journalist, and writer
Patrick Henry O'Rourke (1837-–1863), Irish-born Civil War colonel
Peter O'Rourke (1874–-1956), Scottish footballer and manager
Sean O'Rourke, Irish journalist and broadcaster
Steve O'Rourke (1940-–2003), manager of rock band Pink Floyd
Tammy O'Rourke (born 1971), child dancer and actress
Timothy O'Rourke, American college football head coach
TS O'Rourke (born 1968), Irish author
Save