Flynn Name History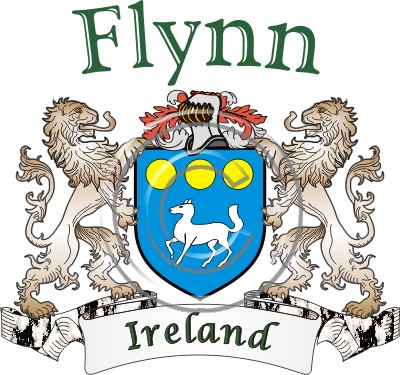 Flynn Coat of Arms
Flynn is a surname of Irish origin. It is an Anglicized form of the Gaelic Ó Floinn "descendant of Flann," a byname meaning "red(dish)" or "ruddy." The name originated in the landlocked county of Laois in the mid-1300s by a large farming family. The name was almost wiped out due to both plague and famine, but it still lives on today.

Variant spellings of the Irish surname Flynn include O'Flynn, Flinn, Lynn, O'Lynn, Linn, and O'Linn.
Find out more
The Flynns were an important and influential family in Ireland. We are honored to offer your family two framed documents that provide more details on the Flynn surname and coat of arms. The Framed Irish Family Name History and Framed Irish Coat of Arms & Family History are heirloom-quality framed prints that describe the Flynn family history in Ireland.
Flynn is one of the many Irish coats of arms and surnames we have available on clothing, glassware, home decor, and other quality gifts. See the Irish coat of arms page on theirishrose.com for family crest ideas and products.
Find a Flynn Pub in Ireland
There's at least one Flynn Pub in Ireland. The one we found is called Flynn's Bar & Off Licence in Ferrybank, County Waterford. If you can't visit in person, our personalized Flynn pub gifts are the next best thing!
Notable people named Flynn
Acting
Barbara Flynn, English actress
Daniel Flynn (actor), English actor
Errol Flynn, Australian-American movie actor
Jimmy Flynn, American actor
Joe Flynn (US actor), American actor
Neil Flynn, American actor known for his role on the American TV series

Scrubs

Quinton Flynn, American voice actor
Sean Flynn, American actor known for his role on the American TV series

Zoey 101
Art and writing
Daniel J. Flynn, American conservative author
Greg Flynn, Australian novelist
Homer Flynn, Spokesman for The Cryptic Corporation and possible member of avant-garde San Francisco art collective The Residents
John T. Flynn (1882-–1964), U.S. journalist and author
Michael Flynn (author) (born 1947), American science fiction author
Nick Flynn, poet and writer
Tom Flynn journalist
Vince Flynn American author
George L. Flynn, the prisable
Law and policing
Edmund James Flynn, attorney in Canada
Edward A. Flynn, Chief of the Milwaukee Police Department
William J. Flynn (1867-–1928), director of the Bureau of Investigation from 1919 to 1921
Music
James R. Flynn (songwriter), American country musicsongwriter
Johnny Flynn, musician
Patrick Flynn (composer), composer and conductor
Robert Flynn, guitarist for the Bay Area metal band Machine Head
Matt Flynn (musician), drummer for the band Maroon 5.
Flynn Amps (Manufacturer), guitar amplifier and effects manufacturer.
Politics and governance
Dan Flynn, Texas politician
Edward J. Flynn, American politician, Secretary of State of New York 1929–1939
Elizabeth Gurley Flynn, political activist
John Flynn (Irish politician) (died 1968), Fianna Fáil politician from Kerry
John Flynn (New Brunswick politician) (born 1954)
John Gerrard Flynn, former British Ambassador to Venezuela, the Dominican Republic and Haiti, and Angola
Pádraig Flynn, Irish politician between 1977 and 1999
Patrick Flynn (Canadian politician) (1921–-1996), Canadian Liberal Party politician of Irish extraction
Paul Flynn (politician) (born 1935), British Labour Party MP for Newport West
Raymond Flynn, former mayor of Boston, Massachusetts
William S. Flynn (1885–-1966), Governor of Rhode Island from 1923 to 1925
Flynn J. Owen Mayor of Nelson, New Zealand from 1879 to 1883
Science, medicine and academia
Colin P. Flynn, professor at the University of Illinois
James R. Flynn, intelligence researcher in New Zealand
John Flynn (minister) (1880–-1951), Minister and the founder of the Royal Flying Doctor Service of Australia
Michael J. Flynn, American computer scientist and inventor of Flynn's taxonomy
Michael P. Flynn, electrical engineering professor at University of Michigan
Shirley E. Flynn, Wyoming historian
Helen Flynn, inventor at the University of Oxford
Maryirene Ilchert-Flynn M.D.,American Orthopedic Surgeon and New York City Police Department Police Surgeon
Sport
Ann Flynn, American track and field athlete
Brian Flynn (born 1955), Welsh footballer
Christopher Flynn, Welsh footballer
Daniel Flynn (cricketer), New Zealand cricketer
Don Flynn, Football player, Dallas Texans, New York Jets
Doug Flynn (born 1951), American baseball player
Edward Flynn (boxer), American boxer, Gold medalist at the 1932 Olympic Games
Eddie Flynn, Irish soccer player
George Flynn (baseball)
Jacen Flynn, American mixed martial arts fighter
John Flynn (baseball), former baseball player
John Flynn (footballer), Irish footballer
John Flynn (rugby league), rugby league footballer of the 1900s, for England, and Broughton Rangers
Lefty Satan Flynn, British Honduran boxer, Jamaican dual-weight titleholder
Michael Flynn (footballer) (born 1980), Welsh soccer player (of Wigan, Gillingham etc., now Bradford City)
Mike Flynn (footballer), English footballer (of Preston N.E., Stockport etc., now Salford City)
Mike Flynn (American football), American football player
Mike Flynn (baseball), American baseball player
Mike Flynn (basketball), American basketball player
Michael Flynn (horse racing), Irish Jockey
Patrick Flynn (athlete) (1895–-1969), American Olympic medalist
Paul Flynn (hurler) (born 1974), Irish hurler for Waterford
Paul Flynn (footballer), Dublin Gaelic footballer
Ted Flynn, Australian Rules footballer
Tom Flynn (American football), retired NFL athlete
Other
Harry Flynn, Roman Catholic Archbishop of the Archdiocese of Saint Paul and Minneapolis
John Flynn (director) (1932–-2007), American film director
Michael T. Flynn, U.S. major general who is top military intelligence officer in Afghanistan
Mike Flynn (radio host), American radio host
Paul Flynn (New Zealand radio), New Zealand radio announcer for ZM
Fictional characters
Harry Flynn, a villain character in the video game Uncharted 2: Among Thieves
Kevin Flynn, one of the main characters of the 1982 Walt Disney Pictures film

Tron

Sam Flynn, son of Kevin Flynn on the 2010 film

Tron: Legacy

Mickey Flynn, character in the novel

Homeward Bound

Mike Flynn (character), character from the Australian drama

Sea Patrol

Phineas, Linda, and Candace Flynn, from the Disney Channel animated series

Phineas and Ferb

Francis Xavier Flynn, the lead character in the

Flynn

series of detective novels by Gregory McDonald
The family in the sitcom

In with the Flynns